The Trump administration is looking for a private contractor to move the dramatically increasing number of children detained at the US border with Mexico to shelters across the country.
US Immigration and Customs Enforcement (ICE) says it needs a "highly responsible" company to accompany tens of thousands of juvenile asylum seekers and families to the shelters every year, according to a newly issued federal procurement document reviewed by Quartz.
A draft solicitation dated May 13 seeks "on-demand escort services for non-criminal/non-delinquent UAC and FAMUs ranging from infants to 17 years of age and adults with a family, seven (7) days a week, 365 days a year." (In US immigration terminology, "UACs" are "unaccompanied children," and "FAMUs" are "family units.")
The winning bidder will arrange commercial airline and bus trips for roughly 60,000 people per year, the document says. Over the course of a five-year contract, the contractor will transport an estimated 225,000 unaccompanied children from "infants to 17 years of age," as well as adults with families, and will be responsible for everything from buying plane tickets to supplying food, clothing, and procuring healthcare while in transit.
The solicitation highlights both the changing nature of immigration on the US southern border, and the expanding reach of Donald Trump's hardline immigration policies. Trump is spending billions of taxpayer dollars to detain immigrants who have not committed any crime, move them to a growing number of detention centers, and house them there for weeks or months thanks in part to a "zero tolerance" policy that automatically puts asylum-seekers into government custody. This week, a fourth immigrant child in US custody died after being detained on the southern border.
At the same time, Trump is reportedly enthusiastic about a "merit-based" immigration scheme proposed by his adviser and son-in-law Jared Kushner, which would prioritize things like education and English skills over family ties and "chain migration."
The 60,000 children and families ICE will transport each year represents a significant annual increase. In 2016, 2017, and 2018, the agency transported a total of 143,000 children and families, combined. ICE's 70-page request for proposals instructs potential bidders on topics ranging from how to avoid speaking with the media to guidelines on when full-body restraints may be used on juveniles.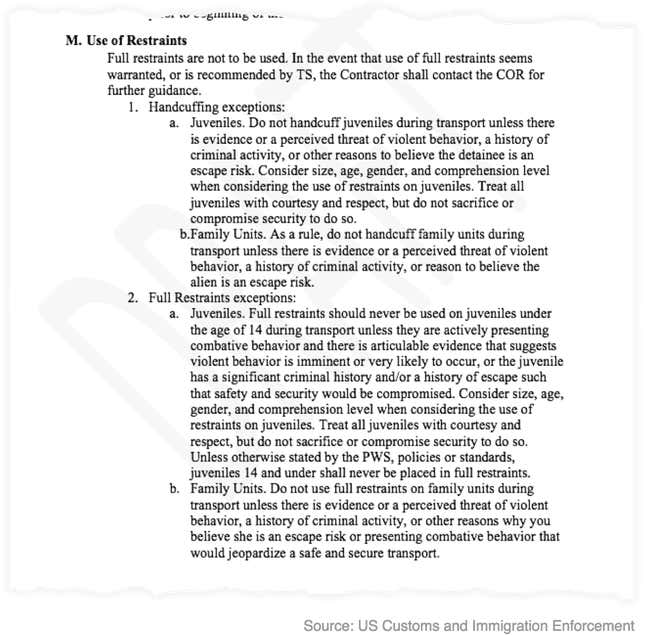 The document notes that "ICE has zero tolerance for any forms of sexual abuse and assault," but gives the contracting company full responsibility for vetting hires for criminal backgrounds.
Children "being transported shall not be left in a locked, unattended vehicle," it notes. A previous contract for similar services over five years, first reported by the Daily Beast, was worth $277 million.
The fact that ICE is relocating children from border holding facilities to shelters is not necessarily itself a bad thing, say immigration experts, but there's no legal reason to detain families who are seeking asylum. Overall, the contract epitomizes a fundamental flaw in Trump's overall policy.
Figuring out how to manage more detainees "is not the solution," says Ur Jaddou, director of watchdog group DHS Watch and former lead counsel at US Citizenship and Immigration Services. Instead, the administration should be working with refugee-resettlement groups, the UN, and foreign governments to lessen the flow of immigrants, and trying to keep people out of detention.
"This is not a new problem," Jaddou tells Quartz.
ICE did not respond to a request for comment.
A private alternative
Immigration on the southern US border has been marked in recent years by an uptick in families with children seeking asylum, as they flee gang violence and other harsh conditions in Central America. Trump administration policies also created more "unaccompanied children" by detaining their parents, and introducing new policies for US guardians that
The agency's new solicitation indicates continuing detentions for families, despite the rights of asylum-seekers and growing concerns about the expense.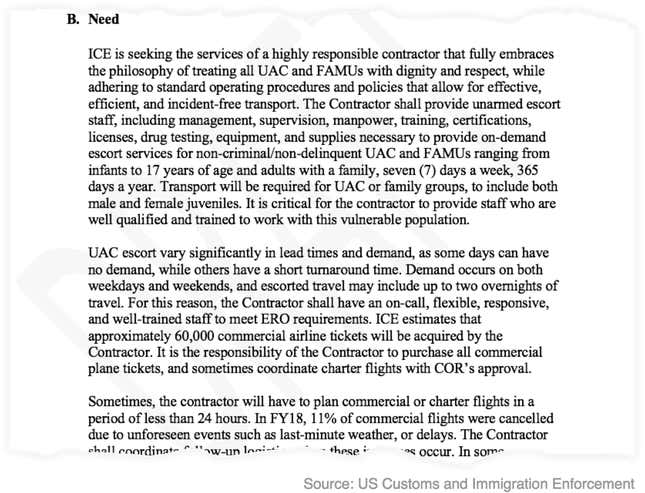 ICE says the increasing number of unaccompanied minors apprehended "continues to create numerous operational challenges," and that it is working on ways to improve the way it processes and relocates them. Of the quarter-million families it expects to transport, ICE says about 90% will travel by air. A number of US airlines have refused to fly children separated from their parents by the government.
800% capacity increase for kids
The Office of Refugee Resettlement (ORR), a unit of the US Department of Health and Human Services (HSS) immediately responsible for unaccompanied children, has seen a huge uptick in demand, the ICE solicitation notes. In September 2011, ORR's capacity was less than 2,000 beds. As of October 2018, ORR's capacity exceeded 16,050 beds, most of them at the southern border.
The Trump administration's zero-tolerance policy, coupled with its controversial and short-lived "family separation" policy that took even nursing toddlers from asylum-seeking parents, seems to have overwhelmed HHS, according to congressional testimony. As of February, an HHS official told Congress the agency couldn't say how many children had been separated under the policy because the government hadn't properly tracked them; a January 2019 inspector general's report estimates there may be thousands more immigrant kids separated from their parents than previous estimates.
The new solicitation appears to transfer at least some responsibility to a private contractor. If appropriate travel plans can't be made, the contractor is responsible for "generating transport documents, records and reports," and may have to keep the kids in their custody overnight.
"Use of the contractor's staging/waiting room satellite office space will be limited to 12 hours or less, and allow for ready access to food, water, clean clothes, hygiene products, and comfortable furniture," the ICE document states.
This has presented problems in the past. As Aura Bogado of Reveal News reported last year, unaccompanied children being transported for ICE by MVM Inc., a Virginia-based defense contractor, were being housed overnight in offices and were forced to bathe in restroom sinks.
Read the full text of the ICE solicitation here: