Two young crypto-entrepreneurs climbed the stage in the press room of the Consensus convention and sat behind a small table. "Thanks for being here, everybody," they said to the room of reporters, none of whom paid them much attention. The two proceeded to give a presentation that was more or less ignored. In sympathy, I offered applause at the end of the tiny press conference. Then, as quickly as they arrived, the boyish founders disappeared into the crowd and the small press corps returned to our writing and interviews.
This scene played out several times over the course of three days, as fledgling blockchain startups—exchanges, wallet services, and blockchain-for-x projects—announced their founding to a mostly empty and apathetic press room. So it goes at Consensus, where there are far more crypto projects eager for notice than reporters—and more importantly, funders—who can give it.
Consensus, hosted by CoinDesk, took place this week at the New York Hilton Midtown. More than 4,000 attendees came together for three days of networking and discussions about the future of the blockchain industry. That's a bit less than half the number that attended last year as the crypto winter took its toll, but many conference-goers remarked that the quality of conversation was much higher. The "weak hands" were washed out during 2018's bear market, laughed one crypto exec.
For an industry that's been labeled as revolutionary, though, it's quickly become clear that a new establishment has taken over. For instance, on the first day of the event, Gemini—the cryptocurrency exchange run by the Winklevoss twins—flexed its muscles by announcing a partnership with Flexa, a payments network which allows retailers to accept bitcoin, ether, bitcoin cash, and Gemini Dollars (the exchange's own token).
The platform required 18 months of concentrated development, explained Flexa CEO Tyler Spalding. "You only get one chance," he said. Inside the exhibition area, attendees were encouraged to download an app called "SPEDN," an intentional misspelling of "spend."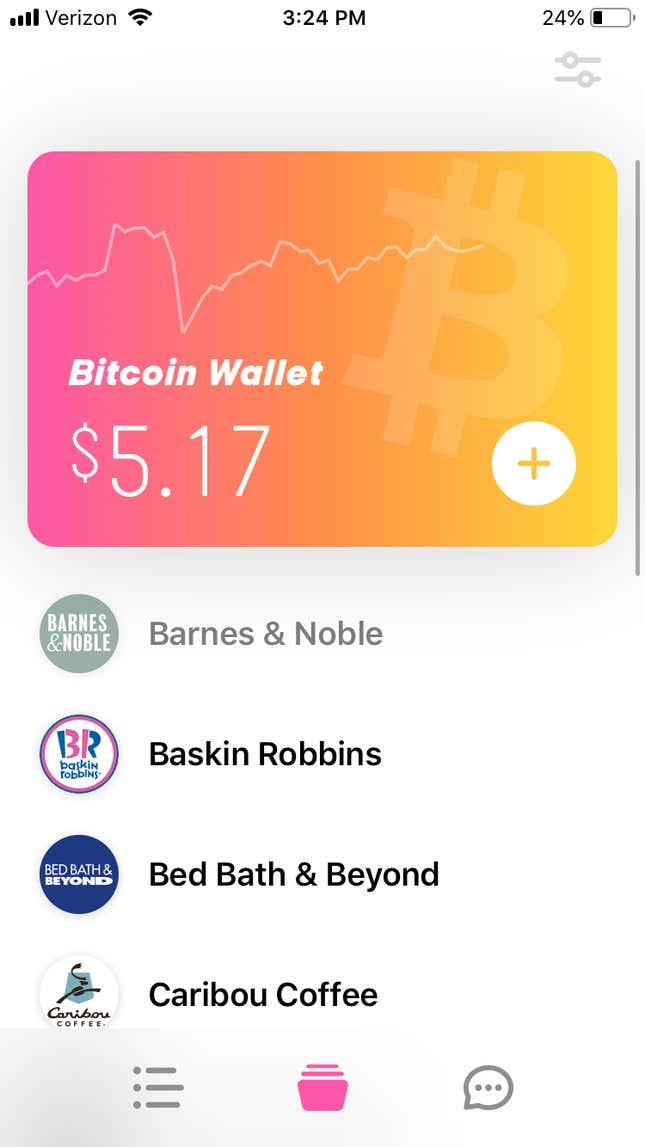 Gemini representatives distributed promo codes, which loaded the wallet interface with $5 of bitcoin attendees could then spend. The app has a limited release for now. Participating retailers—those listed on the app, even if they don't acknowledge it publicly—include Baskin Robbins, Crate and Barrel, GameStop, Jamba Juice, Lowe's, Nordstrom, Whole Foods Market, and more.
I used SPEDN to buy a yellow "Bitcoin" t-shirt at Gemini's booth. I collected my new apparel and expected my wallet to be charged… but, despite multiple scans, it didn't happen. I assumed the bitcoin network was processing slowly, but when I checked the app again later, my $5.00 balance had actually increased to $5.17 (Hooray for the bull market!) For SPEDN users, this glitch is a happy development; for Gemini and Flexa, not so much. Spalding did not immediately reply to a request for comment.
Another company featured prominently in the buildup to the conference was Grayscale, which launched a marketing campaign called #DropGold. At their booth, gold bars (presumably fake?) sat on the table, while the team extolled the virtues of index investment in cryptocurrencies. It's impossible to know which cryptocurrencies will "win," they said, so why not buy a basket? (With just a 2% percent management fee.) The GrayScale team was friendly, but displayed a surprising lack of concern about bitcoin's fundamentals, including the outstanding issues faced by iFinex, a major crypto company which is currently missing $851 million.
Indeed, naivete—if not, indifference—was a widespread problem at the conference. There seems to be a basic disregard for what's happening just below crypto's surface. Fraud and hacks felt like an afterthought. As panelists discussed the supposed merits of stablecoins and tokenized gaming, there was little recognition that this technology continues to make so little sense to anyone outside of their niche world.
Crypto tokens on public networks remain ready for deployment, with enthusiasts waiting for some fabled "killer app." But despite the development energy, their main value to the world remains as a speculative investment vehicles.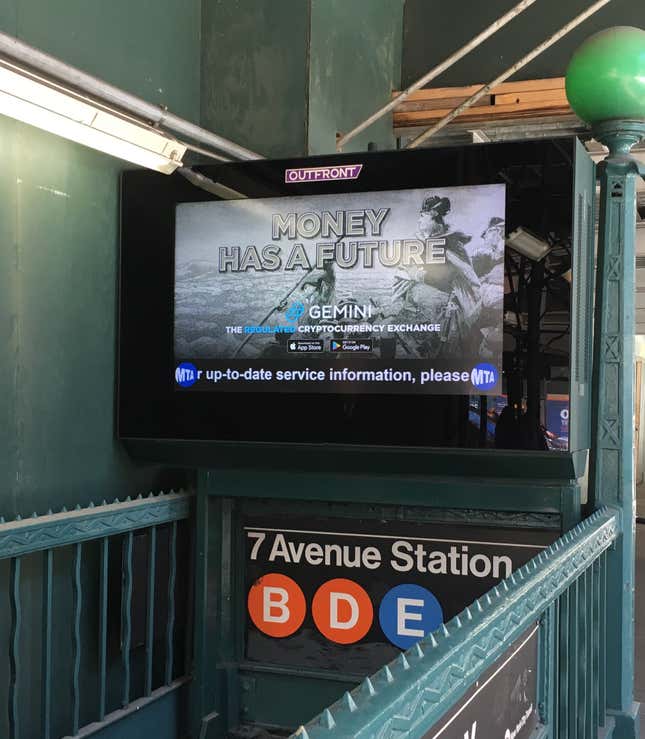 Though I was initially impressed by SPEDN, retail crypto payments aren't new—they just haven't caught on. Spalding said  Starbucks and others would likely acknowledge their acceptance of cryptocurrencies in the next few weeks, so we'll see what happens. He said the coffee chain might be hesitant to publicly recognize the payments network after jumping the gun with Bakkt, a cryptocurrency project associated with the New York Stock Exchange. Starbucks announced a partnership with Bakkt last August, but it was erroneously reported that customers would be able to pay for Frappuccinos with bitcoin.
In conversations, the blockchain and crypto journalists found ourselves asking, "What are we missing?" Hundreds of companies have risen—and fallen. Billions of dollars in digital wealth have been stolen. And what is there to show for it so far? How much longer must we wait?
The blockchain community has pushed out people who express reasonable doubt. One crypto attorney, Preston Byrne, put it best, when he said: "It doesn't pay to be a skeptic." The people who have been around the block know what does and doesn't work, and yet, we're still stuck on the same old ideas. They're just being pushed by fresh faces.
At Consensus, I had the privilege of moderating a panel, which featured Steve Crocker, one of the earliest contributors to ARPANET—an internet predecessor—and the inventor of "requests for comment," a communication standard which allowed researchers to propose ideas for how to improve on the Internet. Crocker confessed to me that he knew little of blockchain, but spoke sagely about the challenges of digital collaborations. He warned that humans, as frail and capricious characters, can sideline otherwise promising projects.
Our fellow panelist, Arthur Breitman, is immersed in the crypto space as the cofounder of Tezos, a project which raised $232 million and infamously fell prey to infighting. Prior to our panel, I attempted to ask Breitman about Tezos' legal entanglements—including outstanding class action lawsuits—but he swore at me, telling me in a French accent that my mother would "rue the day that I was born." It was a bit mystifying, and admittedly, amusing.
I don't understand why so many open-source blockchain developers think they're changing the world. They have a lot of money—and a lot of ego—but there's not much to show for it. Speaking with some of the event staff, I asked, what they thought of this odd digital currency universe.
"It's just another convention," said Linda, one staffer. She found it funny how businessmen in suits walked alongside people dressed like punk rockers. One of her colleagues, Celia, said "Bitcoin? I thought that was a scam."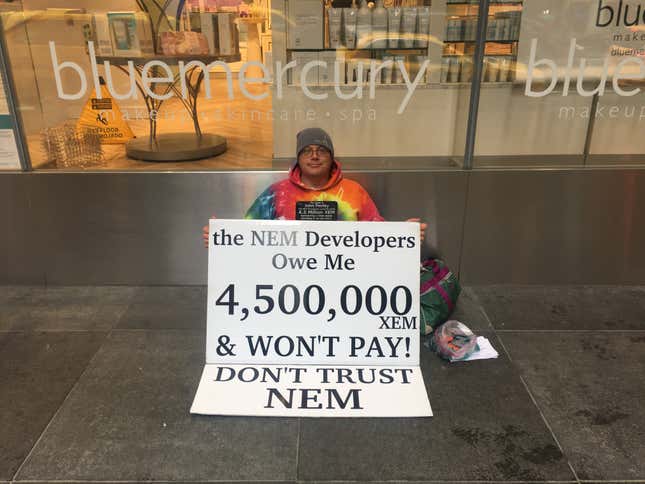 Please send news, tips, and requests for comment to privatekey@qz.com. Today's Private Key was written by Matthew De Silva, and edited by Oliver Staley. Never bet against the house.