Dozens of wildfires have broken out in Mexico over the past week, sending plumes of smoke drifting far beyond the burn sites to blanket population centers, including Mexico City, home to 21 million people.
Officials in Mexico City have declared a state of emergency and are urging people to stay indoors, as pollution levels soar far above what's considered healthy for human exposure. Concentrations of PM2.5—tiny particulate matter produced during any combustion, like burning trees and plants during fires—reached 158 micrograms per cubic meter yesterday.
PM2.5 concentrations can be translated to cigarette equivalencies. According to analysis co-authored by Richard Muller, a physics professor at the University of California, Berkeley, if you were, on average, exposed to 22 micrograms per cubic meter of PM2.5, it'd be the equivalent to smoking one cigarette a day. So if you divide the concentration of PM2.5 by 22, you get the rough cigarette equivalence of simply breathing your region's air.
That means breathing the air on May 14 in Mexico City was the equivalent to smoking about seven cigarettes that day. Today, the city's PM2.5 level sank slightly, to 143 micrograms per cubic meter, or about six and a half cigarettes.
For comparison, following last year's wildfires in California, breathing in parts of the state was like smoking 13 cigarettes per day. In November 2017, during a particularly bad air pollution day in Delhi, breathing there was the equivalent of smoking 45 cigarettes in a day.
PM2.5 is small enough to slip deep into lungs, aggravating asthma and contributing to a range of health problems.
The pollution emergency in Mexico City comes as Mexico as a whole faces a very extreme fire year; 4,425 fires have been recorded so far this year, according to the Associated Press, and firefighters are battling an average of about 100 fires per day throughout the country.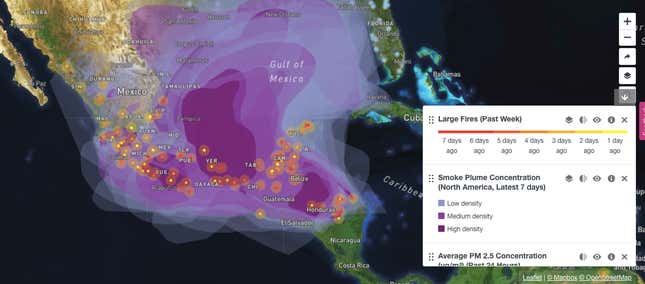 The World Resources Institute, a nonprofit research group, is tracking the fires as they arise. Its maps are dotted with dozens of blazes and smoke plumes across Mexico this week.
Mexico is currently at the tail end of its dry season, which gives way to a season of rain in summer.