When you hear the phrase social media "influencer," you might first think of the Fyre Festival models, who posted enigmatic orange squares to Instagram that hyped up the most spectacular event failure of this century. You might think of Olivia Jade Giannulli, daughter of actress Lori Loughlin, who allegedly got into college with the help of a bribe and cashed in on her student life through paid engagements with Amazon. Or you might think of Chiara Ferragni, the Italian influencer extraordinaire who turned her blog into an empire, and even managed to get her entire wedding #sponsored. These people, each with millions or tens of millions of followers, are the stars of the social media era. They can rack up six figures for each sponsored post they share on Instagram.
But to many brands, real "influence" comes from people like Jennifer Borget, a mother of three who has 90,000 followers on Instagram. Her husband is a police officer, and she's a full-time blogger and influencer, posting about her family and working with companies like Google and Disney. Or Alexander Atkins, who has 72,000 Instagram followers and creates content about men's grooming and fashion, crafting meticulous photos of high-end beauty products crowding a marble sink in a managed mess. He partners with upscale brands like Moleskine and the retailer Mr. Porter, and charges a minimum of $2,000 for one Instagram post. Or Miranda Anderson, a blogger whose content centers around DIY and "intentional lifestyle." With 26,000 followers, she works with brands like Home Depot, Febreze, or CreditKarma, and says she doesn't need a larger Instagram audience.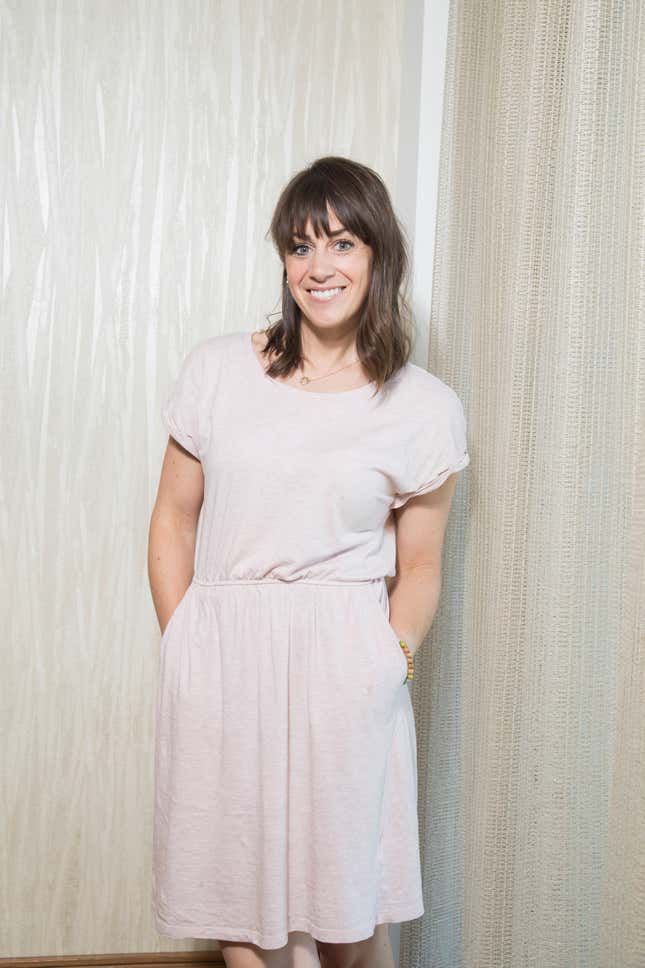 Borget, Atkins, and Anderson are a different breed of social media denizen: the microinfluencer, whose followings are more often the size of a small town than a large country. Brands are increasingly turning to these smaller influencers to find specific audiences and tap into the aura of authenticity that helps them build trust with their followers.
Along the way, influencers are upending traditional ideas of advertising in a way that strengthens the dominance of social platforms and creates an entire new industry.
A brief history of influence
Some say that humans have been "influencing" for a long time. 17th century Dutch painters, for example, depicted fancy teapots that wealthy families aspired to possess. Others trace the history of influencers to early brand ambassadors like the deeply problematic face of pancake mix Aunt Jemima in the 1890s or the Marlboro Man, who was introduced in 1955.  The marketing model that had ladies selling Avon or Mary Kay cosmetics to their next door neighbors in some ways operated like the influencer system, while the classic celebrity endorsement can easily be seen as the predecessor to the influencer Instagram post.
Whatever its roots, the current era of influencer marketing began to emerge in the 2000s.
University of Pennsylvania researcher Emily Hund studies social media and consumer culture. She says that it was a perfect storm of factors that created influencers as we know them. People were already obsessed with celebrity, a product of 20th century pop culture, and the internet supercharged this obsession. Around the 1990s, Hund said, we also saw the "cultural valorization of entrepreneurialism." In the next decade, tools like Blogger and Wordpress helped blogging explode, with the first bloggers—who wrote posts on their own websites—getting the occasional free product and sponsorship deal. For marketers, the specific, segmented audiences that blogs offered (think "mommy" blogs, for example) were attractive.
The financial crisis of 2008 and the subsequent blossoming of the gig economy helped accelerate the boom. Hund noted that many people, especially in creative fields like media found themselves unemployed or underemployed, looking for alternative, more viable career pathways. The emergence of social media in the latter part of the decade, as well as our increasing tendency to tune out traditional advertising thanks to TiVo, streaming, and ad blockers on websites, really sealed the deal.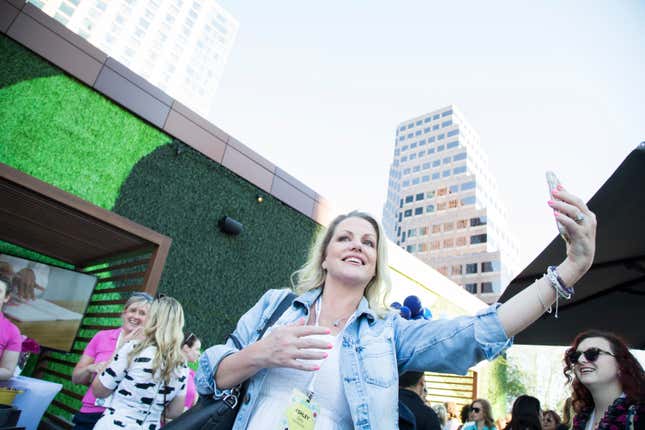 In the following years, Instagram and YouTube created massive celebrities. Some of them have particular expertise, but many shot to stardom largely because of their charisma, looks, or ability to create a widely-appealing aesthetic. Brands came to see influencers as a crucial marketing avenue. In 2017, an Influencer Marketing Hub survey showed that 37% of companies had money allocated to influencer marketing in their budgets. By 2019, that share rose to 86%. More than 60% of respondents said they would increase their marketing budgets over the next year. Most commonly, brands devoted between 10% and 20% of their marketing budgets to influencers. Although the development of influencer marketing varies country to country and is particularly robust in the US and China, it's a global phenomenon, with major multinational companies and local brands everywhere launching influencer campaigns.
In the mid-2010s, marketers shifted gears on their influencer strategy. They realized that influencers with big followings weren't as effective in changing behaviors as was word-of-mouth messaging, and started paying more attention to the microinfluencer, said Jonah Berger, marketing professor at the Wharton School at the University of Pennsylvania.
There's no precise definition for who is a microinfluencer. Some put the threshold at someone with fewer than 30,000 followers; others would say fewer than 100,000 or even 500,000. The scale also keeps shifting. Brands also turn to "nano-influencers," who are essentially regular people who are adept at social media and have as few as 1,000 followers. Some influencer agencies even pitch "non-influencers"—people who have small, engaged followings but have never done any promotional content—on brand campaigns.

Microinfluencers are all about engagement
At the 11th Mom 2.0 Summit, a conference for mom bloggers and influencers held in Austin, Texas, the mantra repeated at many of the educational sessions was that "it's not about reach as much anymore, it's all about engagement." This means that brands are finding more value in how followers interact with influencers and how loyal their audience is—measured in likes, comments, and shares—than in how many people view the content. (Engagement measures the rate of interactions compared to the size of the audience.)
This is where smaller influencers can really shine. There are still plenty of celebrity influencers making plenty of money for brands. They help, for example, with a big PR splash, and they will always get more eyeballs on a product. But microinfluencers' followers might trust them more than they would a celebrity removed by many degrees of fame. Influencer recommendations are meant to be akin to those of a friend—and it's easier to imagine someone who has several thousand fans as your buddy than it is someone with the celebrity power of a rock star. The creators embrace this. "I'm your virtual best friend," said one influencer at the conference, as she gave me her elevator pitch.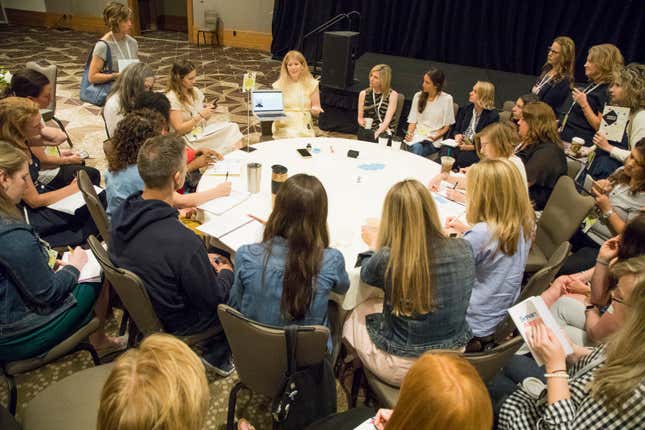 Anderson, the "intentional lifestyle" influencer, for example, says she tries to respond to every message she gets from a follower. It's harder to do that with an enormous audience.
During a Mom 2.0 session on metrics, marketer Shannon Thorndyke said that part of the reason for the pivot toward engagement is that for years, influencers have been purchasing fake followers in order to make themselves more attractive to brands. And in the end, it's the brands that waste money if their influencers have inflated audiences. Although you can fake it as well, engagement generally shows that the audience is actually listening.

"The riches are in niches"
Microinfluencers also help brands reach a more specific audience than celebrities do.
Modern social media influencers first emerged from the fashion, beauty, and parenting scenes, but now there's an influencer for everything: healthcare, teaching, farming (like this blonde sheep farmer in Iceland), military, cannabis. There are elderly influencers, and of course, pet influencers.
A yoga teacher, even if she "only" has 30,000 followers, is a great candidate to give an endorsement of a specific mat or workout outfit. A celebrity who is known to have multiple plastic surgeries might not be.
"The riches are in niches," is the way it was put to me by Jillian Tobher Leslie, a successful blogger behind the party idea website Catch My Party.
Atkins, the male fashion and grooming influencer, focuses on luxury products. "You could have a teen or a tween with two million followers getting 50,000 or 60,000 likes on a photo," he says, "but their followers are not going to swipe up and drop $2,000 on a Saint Laurent sweater." He says his followers will, and have, because he's aligned his online presence with high-end brands from the very beginning.
Specific content and a niche audience also help with the key currency in the industry: authenticity. If you're promoting a product, the audience has to be able to believe that you use it. If you've established an expertise in DIY, your audience won't wince at your paid post from Home Depot, but they might if you start shilling for a fancy car company.
An industry focus on data has also helped the microinfluencer boom, Hund says. Influencer platforms like Influential and Julius use artificial intelligence to match up a brand and its specific requirements with an influencer who has the perfect profile and audience for their needs.

Micro means less money and more content
One of the most obvious reasons brands are turning to microinfluencers is that they're less expensive to hire than big stars. The economics of microinfluence benefit brands in other ways, as well.
A small crowd of microinfluencers will generate lots of content. Brands sometimes use this content on their own social media and advertising channels, replacing the "creative" work traditionally done by ad agencies, said Ryan Skinner, analyst for market research firm Forrester. Brands are taking money from one and putting it into the other, an "outsourcing of content creation."
The most extreme version of this strategy is for brands to not hire anyone to make content at all. Companies known to be particularly adept at social media, with products and aesthetics tailor-made to make for a good post, like luggage brand Away or athleisure maker Outdoor Voices, often use content generated by regular customers for their advertising. These customers don't get free products from the brands—they're happy to simply be associated with them.
For instance, there are 135,000 entries with the Outdoor Voices #doingthings hashtag on Instagram. Outdoor Voices often reposts the user images they like as advertisements.
As Jia Tolentino put it in The New Yorker, "Outdoor Voices advertises non-famous people who mostly do not get paid but whose lives, thanks to social media, are refracted through the usual mechanisms of celebrity."
This is where Berger, the Wharton marketing professor, said the industry might be heading. "I think eventually, hopefully, we'll get to a model that's a little bit more organic. Rather than paying people to talk about something, we'll give out samples of things, allow people to experience those things and talk about them if they like them."
In other words, everyone will become an influencer.