There's a certain kind of Instagram user who is expert at inciting desire, or even envy. Their feeds are peppered with well-lit shots of the good life: bountiful cheeseboards strewn with fresh fruit; un-scuffed sandals resting by a beach-house door; tabletops set with artfully mismatched porcelain and bloom-stuffed vases. Sometimes, a product—for example, a pale wooden handbag in a half-moon shape or fiddle-leaf fig tree in a modern planter—translates so well in this medium that it becomes a sensation. Such is the power of Instagram users who are adept at tapping into and capturing our material aspirations. Influencers, we call them.
Today, their ranks include @somethingnavy, @honestlyWTF, and @dabito. Three hundred years ago, they included Pieter van Roestraten and Adriaen van Utrecht. These artists were masters of the Dutch still life paintings known as pronkstilleven. In English this translates to "showy still lives," which would also be a good name for many of the pictures on Instagram.
Pronkstilleven, write Peter McNeil and Giorgio Riello in the 2016 book Luxury: A Rich History, "conveyed visually the social aspirations of their owners. They are catalogues of what well-to-do families aspired to possess."
In other words, the 17th-century Dutch were kind of basic.
McNeil and Riello pointed to the example of Pieter von Roestraten's Teapot, Ginger Jar and Slave Candlestick, which depicted—you guessed it—fancy tea accessories from China, a lidded urn for containing ginger (you can purchase a similar one today for $99 at Williams Sonoma), and a problematic silver candlestick with a base depicting a kneeling slave.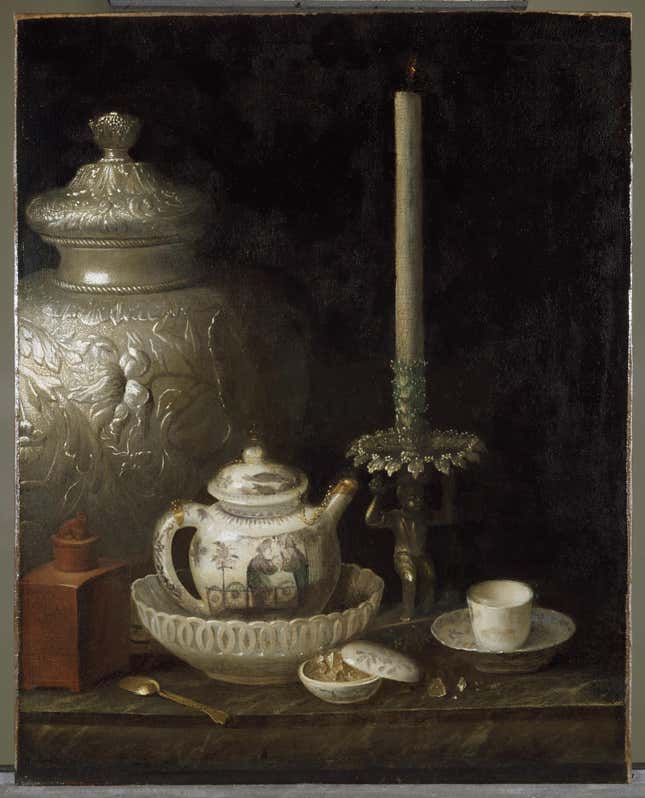 The painting dates back to 1695, an era when luxury was becoming more accessible to the masses—"a phenomenon that not only interested just the few, but that involved entire societies and that was increasingly connected to taste, fashion, and social and economic competition," write McNeil and Riello. "This painting clearly points to what the middle classes aspired to own—a new type of luxury that was no longer restricted to social elites."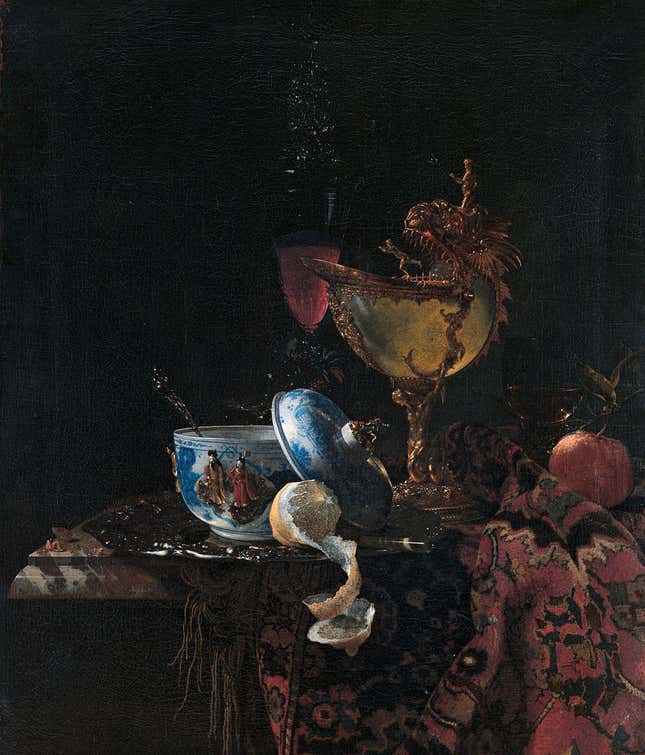 Nautilus cups—Pacific mollusk shells mounted on silver stems—were the Instagram candy of their day. Featured regularly in pronkstilleven, they were a tidy symbol of Golden Age wealth and trade: an exotic object imported from afar, gilded with European craftsmanship, according to art historian Marsely L. Kehoe. Nautilus cups were dear to the collectors who displayed them in their curiosity cabinets, and accessible to far more people who viewed them in the still-life paintings.
Just like today's Gucci loafers or flutes of champagne in first-class, they were something to aspire to.