Facebook is pleased with its growth on mobile devices, especially outside the US, and it wants everybody to know. It recently sent out a publication to its advertisers which breaks down user numbers by country for the first time, and includes a wealth of data about daily and monthly users as well as those who access the service from mobile devices. TechCrunch has the details as well as the full publication, but we've broken down some of the key numbers into this chart.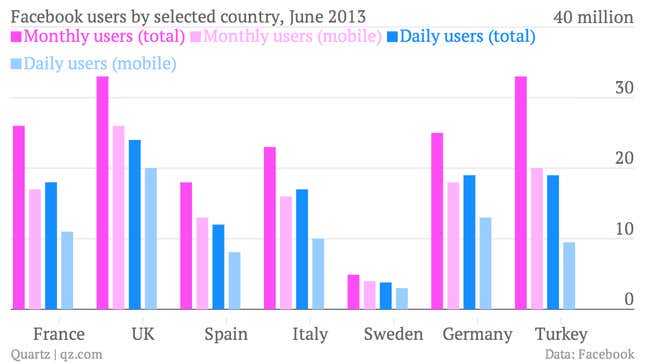 According to Facebook, these numbers represent remarkable penetration. In the UK, for instance, the company says it reaches 69% of all internet users (slide 12 of Facebook's publication). It bases this percentage on data about internet usage from eMarketer, a research firm. We recalculated the figure using data on internet usage from the World Bank's DataBank and got a slightly lower figure, with 61% of all UK internet users accessing Facebook in the past month; the proportions in other countries likewise look a bit lower than Facebook claims. However, without a peek at Facebook's and eMarketer's original data it is impossible to tell whether these numbers are comparable.
Either way, the numbers are impressive, as are the proportions of people using Facebook on mobile. What's more, its user base continues to grow (pdf, pp. 3-4).