"France is maybe the best place to start a company," said Jean-Rémi Kouchakji, co-founder of PayinTech, a Paris-based fintech firm that was among the 9,000 startups at the Viva Technology conference this year. Paradoxically, he said, it's a difficult place for small- and medium-sized companies to thrive, a necessary step for building a corporate titan.
This long-running question—why hasn't Europe created tech giants like China and the US—played out in dozens of forms during the conference. On the main stage, the star power of tech-sector heavyweights like Alibaba's Jack Ma could only be matched on the European side by the likes of French president Emmanuel Macron. Google, Facebook, Amazon, and Huawei erected big booths that stood out amidst the mix of France's old-economy firms like energy utility EDF, aerospace contractor Thales, and railway operator SNCF.
The reasons why Europe's tech players are lagging behind are well known: The continent remains fragmented, with differing rules and licensing from one (small) nation to another. Another big factor is money. Large funding rounds allow startups to expand quickly and gobble up market share. Growth capital in Europe, while improving, is nowhere near as plentiful as in America. The US also boasts deeper public capital markets for venture-backed companies to cash out, as a herd of unicorns now coming to market have shown.
"You have funds that are limited to Benelux! I love Benelux, but it's small," said Maurice Lévy, chairman of ad giant Publicis (one of the organizers of VivaTech) and an éminence grise in French business. "We should think big."
The scale-up ceiling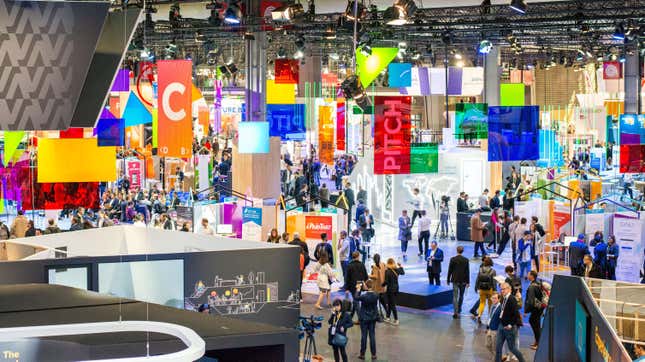 At the moment, Europe is good at thinking small. France, in particular, has more than enough technical talent to go around, and generous tax credits to help startups get off the ground. But as companies grow, they hit the country's infamous 50-employee ceiling, above which onerous labor regulations and red tape is applied. "Over 50 people, it's hell," said Kouchakji. (His company isn't quite there yet.)
PayinTech's fear of the thicket of regulations that threaten startups as they grow shows why firms may be wary of ramping up quickly, and why investors could be reluctant to pour capital into them. It's no wonder that France lags behind the UK on most measures of tech entrepreneurial success, much less the US and China.
Kouchakji is optimistic that life will get easier for his five-year-old company, and others in France. He's on the board of CroissancePlus, a small-business association, and is pushing for reforms that would help startups grow faster, which he thinks would have widespread support among an otherwise restive public.
Indeed, at VivaTech, the hurdles do not seem insurmountable. The founders we met, from France and elsewhere in Europe, had support from startup accelerators and incubators that provided networking, knowhow, and—yes—money. Government officials acknowledged the fragmentation in markets for capital and digital services that hinders tech companies from taking full advantage of Europe's market of 500 million consumers.
Come together
The confidence exuding from the booths set up by L'Oreal and LVMH—or was it the perfume?—demonstrated how European companies can marry their unique heritage with the latest technologies, cementing their place as key global players. And the fractious politics of European integration can be overcome, as shown by the sweeping legislation on data protection that came into effect across the EU last year.
Macron said Europe could become a tech leader by "building a tech ecosystem that is compatible with democracy." This is shorthand for rules and regulations on data privacy, competition, and the like, carving out a middle ground between the libertarian free-for-all in the US and the state-dominated model in China.
Nobody doubts that France and the rest of the Europe have the raw material to create leading tech companies. On the final day of the VivaTech, which is open to the public, families flocked to the expo center: kids played with robots, waited eagerly in line for virtual reality demos, and took part in hackathons. The main stage featured a lively mock trial on the internet's impact on democracy, and there were no empty seats at a workshop for women in tech.
Macron's vision for France as a "startup nation" is not just talk, founders at VivaTech told us, but fostering firms to grow beyond the startup stage requires more concerted co-operation and integration between countries in Europe. That seems to go against the prevailing trends at the moment. And despite the politics of the day, the risk is that Europe will take the lead in regulating and taxing the digital economy, but remains relegated to a secondary role when it comes to building it.