The British economy has definitely distanced itself from the economic miasma of the euro zone. Granted, you don't have to do much to top the 0.1% in GDP growth the euro zone eked out in the third quarter. But Britain's 0.8% pace over the prior quarter did the trick.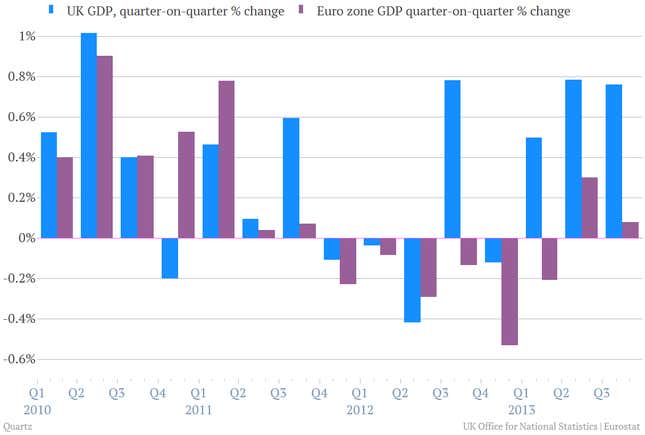 And there are indications that Britain's economic engine is at last getting some of the fuel it needs. Indeed, credit seems to have started flowing into the British housing market more freely than it has in years. Fresh numbers out this morning from the Bank of England show mortgage approvals hitting six-year highs. (They are the highest since January 2008 levels.) Of course, they remain quite depressed by historical standards.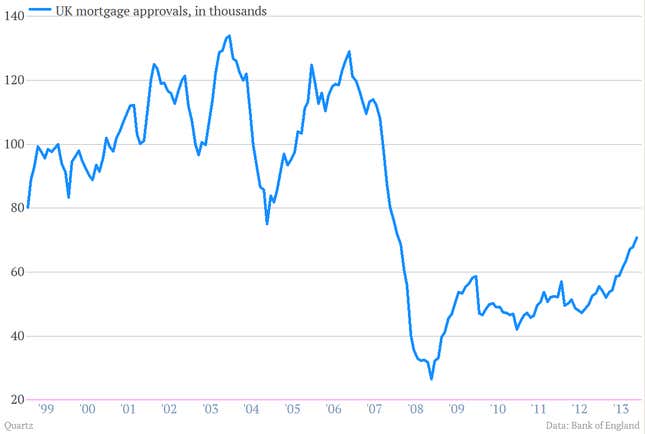 But after collapsing during the financial crisis and after roughly four years of sideways waffling, the UK mortgage market seems to have sprung definitely back to life. And what was the life-giving elixir? British government programs aimed at boosting mortgage lending seem to be the answer. In fact, the Bank of England seemed to think its Funding for Lending program, which encouraged banks to offer mortgage loans and lowered rates for home-buyers, may well have been too successful. Lately, policy makers have been worrying aloud about increased risk of renewed frothiness in British housing markets. As a result, it ended the mortgage-focus of the program in November and has since shifted toward business lending.
But was that the right decision? The consensus seems to be yes, as the momentum in the British housing market remains significant and another program aimed at housing, known as Help to Buy, which guarantees loans with a small down payment remains in place. Other key indicators such as unemployment continue to move in the right direction. On the other hand, consumer confidence has been slipping lately, which suggests that if all the punch is pulled away too soon, the good times in the British consumer sector may not last for long.