Chinese mobile giant Xiaomi isn't merely expanding its business in China. Users of its customized version of Android smartphone software now total 30 million (three times the number of users it had at the start of the year) and span 58 countries, according to an infographic released by the company. Here's a snapshot of the map: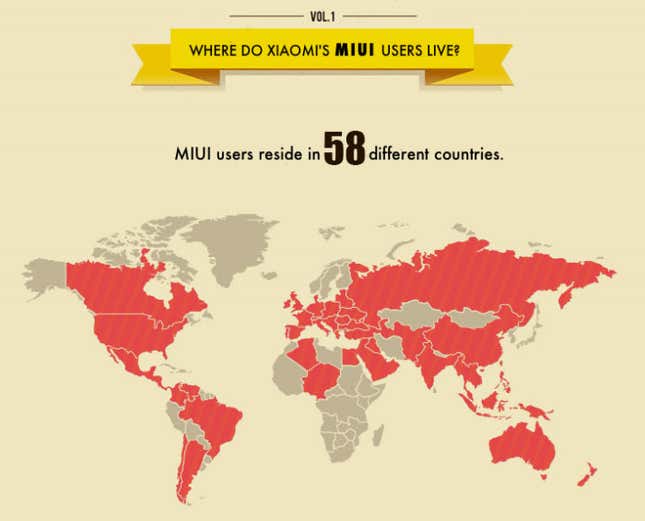 Xiaomi's software is known as MIUI and was only launched in 2010. The company sells inexpensive phones under its own brand, but people can install the MIUI operating system on other devices as well. Xiaomi sells phones to consumers in China, Taiwan, and Hong Kong, and has its sights set on expanding into Southeast Asia next.
Xiaomi has sold a total of almost 26 million phones to date (seven million in 2012 and 18.7 million and 2013), meaning that some 4.3 million users have downloaded its software on non-Xiaomi phones. While many of those carrying Xiaomi-made cell phones outside China are likely Chinese living abroad, the fact that the company has users in nearly one-third of the world's countries is still significant.
CEO Lei Jun recently announced his target for the new year: selling 40 million new smartphones, or more than twice last year's total. Had Jun broken those ambitions down by country, a handful of those 40 million wishes likely lie outside of China's border.