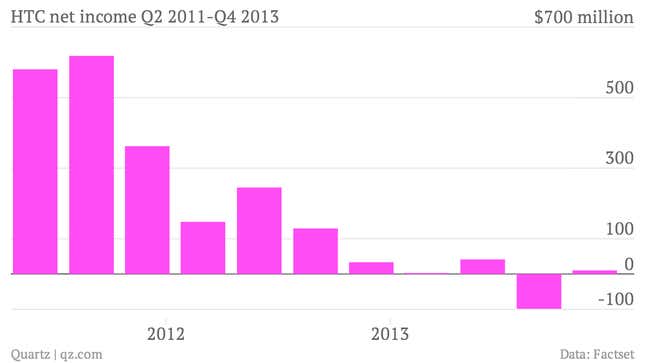 The numbers: Gloomy. Taiwanese smartphone maker HTC managed to avoid a second straight quarter of losses with the sale of its stake in Beats Audio, a headphone maker. The $85 million from the sale helped HTC post a net profit of $10 million, an improvement over last quarter's $100 million loss, but a far cry from its $34 million profit in the same quarter last year.
The takeaway: Despite the return to profitability, HTC's market share continues to shrink. Still, operating losses shrank as well, to $51 million in the fourth quarter, roughly half as much as the previous quarter. HTC's most recent flagship phone, the HTC One, was well received (though it didn't sell in large numbers) and the company is planning an updated model for the second quarter of this year, which may help it regain some lost ground.
What's interesting: If last year was when smartphones became commodities, this is the year that expensive, flashy smartphones truly stagnate. The Consumer Electronics Association forecasts a 1% decline in the sale of technology products, and consumers in Asia are already tiring of their iPhones. HTC has quietly been refocusing on cheaper phones in the past quarter, something that may hold it in good stead in the coming year.