Architecture graduates: Today's job market isn't buying what you're selling.
The New York Federal Reserve's latest research report (pdf) discusses a number of difficulties facing recent college graduates, including unemployment. Unemployment has been higher for recent graduates than for the overall pool of college graduates; The jobless rate among recent graduates has also been rising, despite its decline among other workers (p. 2):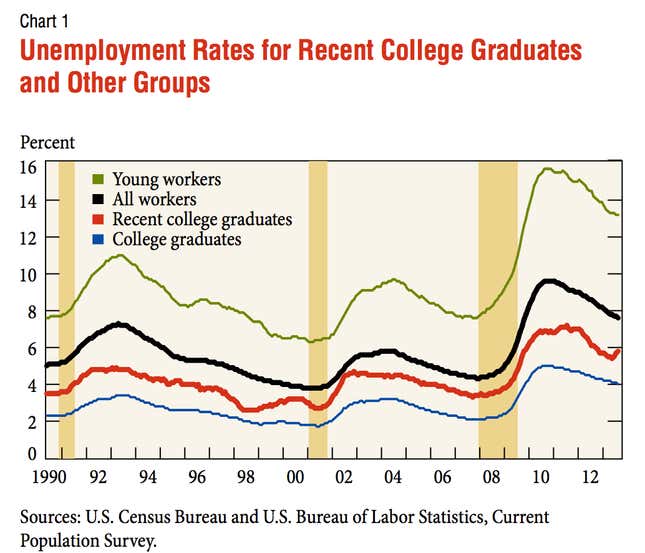 As the NY Fed points out, however, not all majors are created equal. After dividing the pool into 13 different undergraduate majors, and using data from 2009 to 2011, some academic pursuits proved likelier to land graduates a job. A mere 3% of health majors, for instance, were found to be unemployed. Other degrees, however, proved less job-friendly.
For instance, the unemployment rate for architecture and construction majors was 8%, likely related to the fate of housing-related sectors following the housing bust.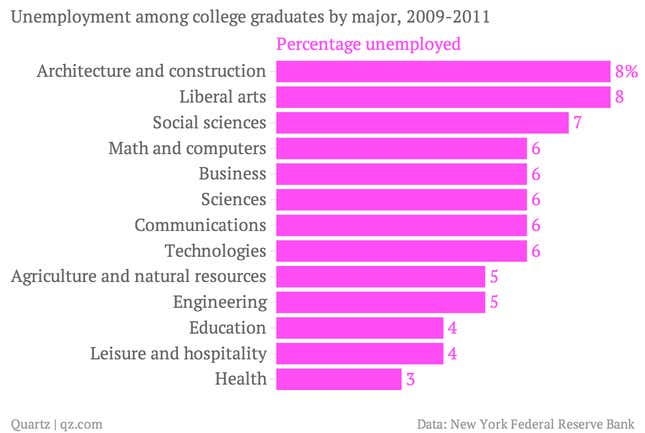 Looking at the unemployment figures for architecture and construction separately makes architecture look even worse. A study conducted in 2012 placed the unemployment rate amongst recent architecture graduates at 14%, the highest of any major. That may be because most professional architects need an advanced degree to get a job in the field. Or it could be that architecture enthusiasts are realizing that an advanced degree in their field of choice doesn't pay off.