"I don't know if the world needs more technology," says Bill Geiser, CEO of smartwatch company Metawatch. "I think the world needs friendlier technology," he adds.
Metawatch is a company willing to make a bet: You'd wear a smartwatch if it didn't make you look like a giant 12-year-old with cyborg aspirations. But how to telegraph that you're a man or woman of sophistication and taste while indulging your inner nerd (or inner spy)? Metawatch's answer, just unveiled at this year's Consumer Electronics show, is to hire a designer who once crafted a custom $480,000 phone.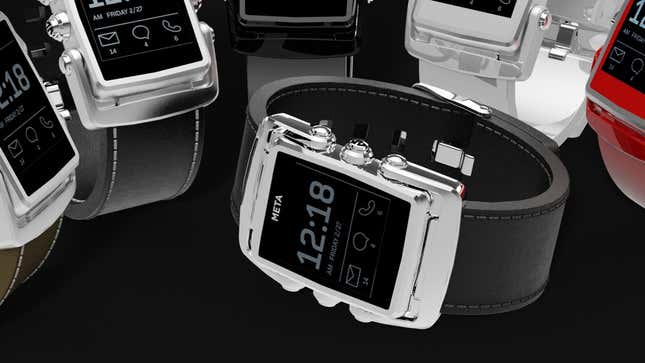 Frank Nuovo, veteran of Nokia and its luxury phone spinoff Vertu, has been working with Metawatch—which also makes much more pedestrian-looking smartwatches—to create something that could be described as "beautiful," Geiser recently told Quartz.
The result looks an awful lot like other smartwatches, only with a much nicer bevel and a leather wristband. It definitely looks expensive—pricing is unavailable for now—but does it look classy enough to replace a Breitling or a Rolex on the wrist of the discerning consumer of timepiece bling?
If the smartwatch market someday resembles the regular watch market, it will be comprised of hundreds of small manufacturers and a handful of majors—presumably Apple and whoever else can figure out how to make regular people want to wear a watch again. (And barring a miracle, probably not Samsung.) Metawatch's internals seem serviceable enough, and include a low-res black-and-white LCD screen that will get an all-new user interface come spring, when the watch officially launches at outlets like Best Buy, says Geiser.
That new interface, Geiser says, will be designed for "glanceability"—that is, displaying information passively rather than encouraging you to treat your watch like a tiny smartphone. "We actually see the phone as the problem," says Geiser. "We're trying to build products that fit into your life as opposed to asking you to fit your life to them."
And in a world where watches have always been about passively displaying information to their wearers and actively displaying their price and fine craftsmanship to others, that might be enough.