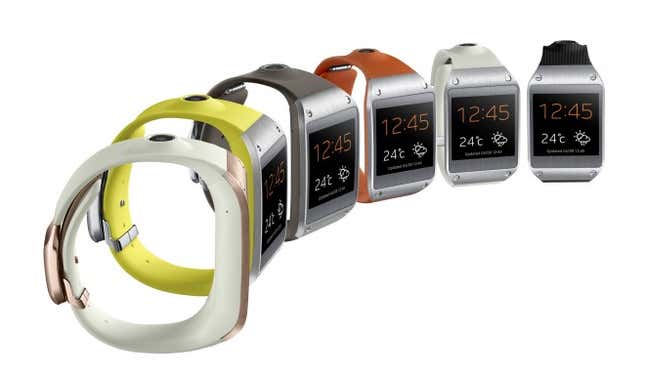 Samsung just unveiled its new, $300 Galaxy Gear smart watch, and its long list of features is impressive. Here are the ones that differentiate it from other smart watches, which have so far been mostly disappointments:
Gear has a tiny camera in the wristband, which makes taking pictures as simple as looking at the watch and swiping its display with one finger.
It can be used to make and answer phone calls, thanks to a microphone and a pair of speakers in its wristband.
It can display "over 70" apps on its 1.6-inch color display, including Evernote, Path, Snapchat, TripIt, and RunKeeper.
Gear is dependent for much of its functionality on a companion tablet or phone, yet it is only compatible with Samsung's more recent, "flagship" smartphones, including the Galaxy Note II and III and the Galaxy S3 and S4.
The Gear is a fairly radical departure from previous smart watches in that Samsung has managed to pack a lot more hardware than usual into a wrist-based computer. That raises two big questions to which we don't yet know the answer.
The first, for consumers, is whether Gear's ability to run apps will make it usable in ways no one can predict, similar to what happened with the iPhone. (Gear has 4 gigabytes of storage.) Gear's apps are going to be essential because it's not clear that the built-in features solve the problem of why anyone needs a smart watch in the first place.
The second issue is whether Samsung will be able to sell a device that, despite its impressive list of features, has serious limitations. One is bulk: Reviewers report that it's larger than previous smart watches, such as the Pebble. Another issue is battery life: The Verge reports that the watches it tested barely made it through a single press briefing, much less a full day of use.