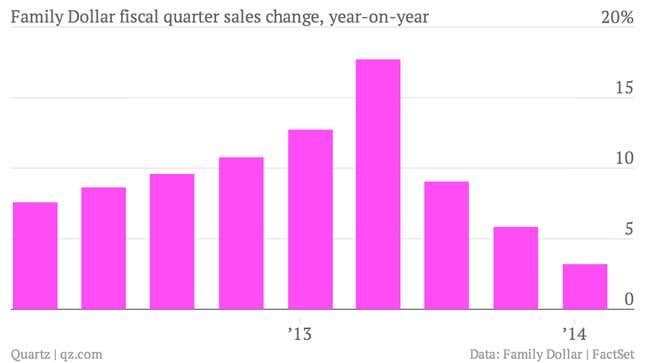 The numbers: Nothing to write home about. Profits fell 2.8% to $78 million. Revenues rose 3.2% to $2.5 billion. Sales at stores open at least one year fell 2.8%. (Same-store sales tells investors how much a retailer's sales gains are related to improving performance of stores that are already open, rather than new sales from freshly opened locations.)
The takeaway: Poorer Americans are still in very rough shape. In theory that might push more potential shoppers toward rock-bottom retailers such as Family Dollar. But in practice, because people are so pressed, more and more of Family Dollar's sales are coming from very low-margin sales of necessities like food. (Sales were strongest during the first fiscal quarter in Family Dollar's "consumables" category, especially in areas like frozen food.) That hurts profitability.
What's interesting: The plight of those in the Family Dollar demographic doesn't look likely to brighten markedly any time soon. About 50% of Family Dollar shoppers rely on some kind of government assistance, according to a corporate presentation from May of last year. (See the slide, below.) The fact that 1.4 million Americans who had been unemployed for six months or more lost government jobless benefits last month when a federal program expired—and hundreds of thousands of others will—likely touches more than a few families that shop at the chain.