This week, over 200 million people have begun traveling home to celebrate the spring festival, chunjie, or Chinese New Year, part of the world's biggest annual mass migration which invariably strains the country's transportation system with days-long traffic jams, flight delays, and near-riots over sold-out train tickets.
This year should be especially bad. Transportation officials estimate that China's 1.3 billion people will take an average of three trips each by rail, air, and road over the 40 day period that marks the holiday, for a record total of 3.62 billion trips (link in Chinese). That's 200 million more trips than last year.

While the bulk of travel is by road, especially by bus or coach, each of these modes of transport will come under heavy traffic. Scalpers, for instance, are using bots to buy train tickets in bulk and drive up prices.
Here's how some Chinese—many of whom will only travel home this once all year—are dealing with the notorious chunyun or "spring migration."
Take a reality TV-inspired road trip
When train tickets for a direct trip back home to the northeastern city of Shenyang sold out, Ms. Sun, a teacher in Shenzhen found inspiration in China's most popular reality show, "Dad, where are we going," which takes celebrity fathers and their children on survival missions around the country. Sun has planned a road trip for her and her six-year-old daughter that includes detours to eight cities along China's coast, plus a ferry ride. Sun told a reporter (link in Chinese), "I'll be calling my itinerary, 'Mom, where are we going?'"
Run, walk, or motorbike
Some intrepid travelers have taken to traveling home on their own two feet. Four students from Hunan University in Changsha are walking or running a total of 400 km (link in Chinese), about 248 miles back home to Chenzhou. The group, which set off on the morning of Jan. 13, expects the trip to take 10 days, but they're not even the most ambitious. In 2012, two university students walked 800 km (article in Chinese) in seven days from Suzhou to their hometown of Yancheng.
Motorbikes are also an increasingly popular mode of travel. A documentary that's been viewed over 600,000 times on video-sharing site Youku depicts life on the road for the mostly migrant workers who are traveling home this way. One man explains that he'll save about 1,200 yuan (about $200) by not taking a train. Last year, over 100,000 (link in Chinese) Chinese traveled from Guangdong province back to home by motorbike.
Get as comfortable as possible and pretend no one else is around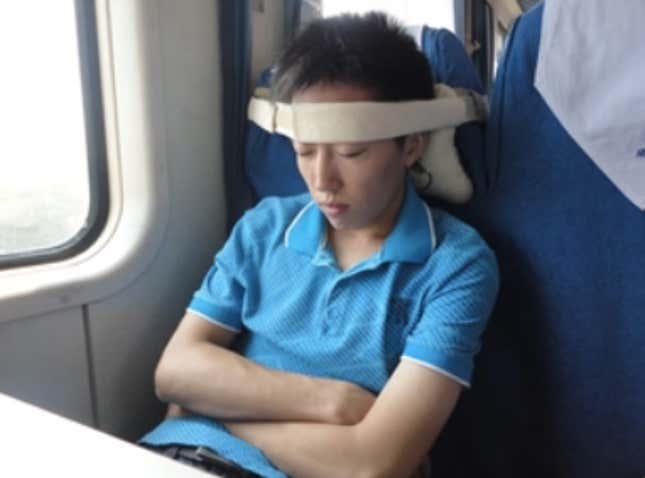 When all else fails, chunjie migrants have no choice but to make the best of a long, crowded journey home—and buy special chunjie travel insurance against theft and accidents common to these trips. Train travelers who don't manage to get a bed on long trips can buy contraptions like these: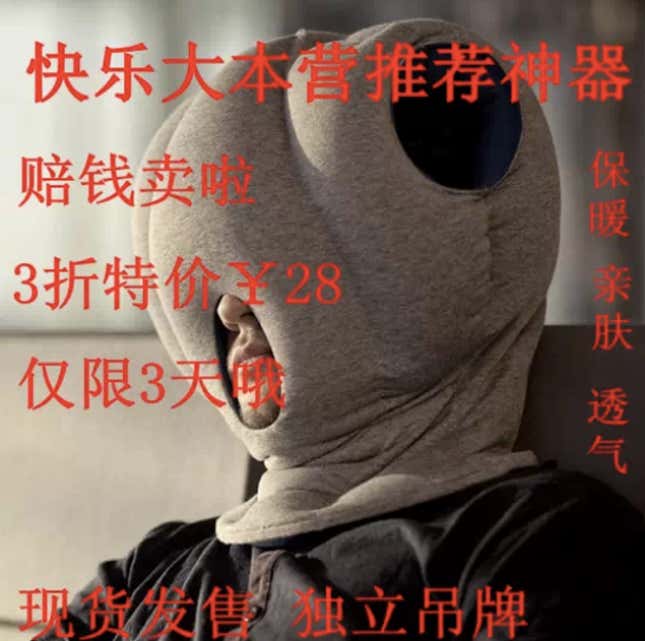 Jennifer Chiu and Gang Yang contributed additional reporting.