In 2009, China seized the lead as the world's top exporter of goods. The slow but steady uptick in imports in 2013 is putting it on track to surpass the US as the biggest trader of goods on the planet, according to data published today (the US releases its December data on Feb. 6). Does that mean its oft-maligned trade gap will finally start shrinking?
First a look at how things went last month (link in Chinese). A surprise bump in import growth accompanied what one economist called a "dramatic" weakening of exports. But though December was unusual, 2013's trade balance didn't look much different than previous years: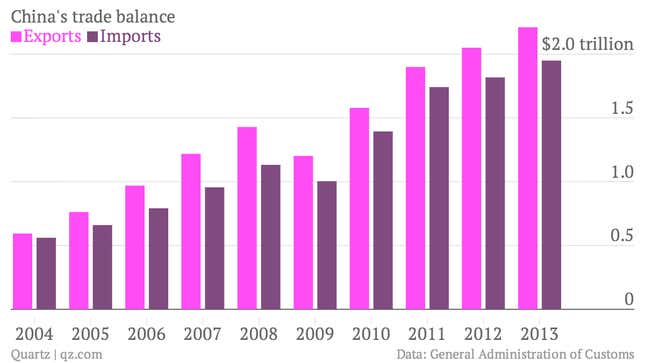 How's global demand looking?
China's exports depend, obviously, on global demand. The picture is mixed. Overall, exports to the US and the EU, which account for a combined 32% of China's total exports, picked up in 2013. But last month, they grew only 3% and 3.9% respectively compared to December 2012, a big drop from the 17.7% and 18.4% year-over-year growth in November. That's partly due to the fact that exports to both in December 2012 were unusually strong.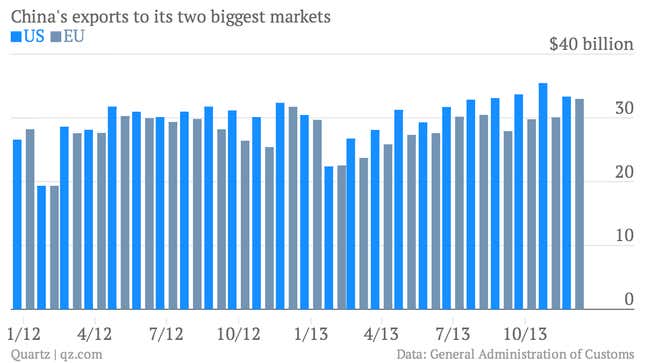 What about that trade gap?
Though stronger-than-expected imports helped shrink China's oft-maligned trade surplus in December, it's still a mammoth $25.6 billion. That means in 2013, China continued to claim more than its share of global demand to help drive its economy.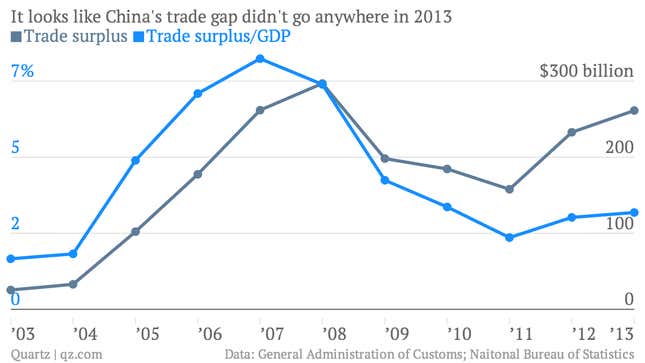 A big trade surplus signals to investors that the yuan is weaker than it should be. And that invites potentially destabilizing "hot money" inflows aiming to profit on yuan appreciation. (Ironically, much of that speculative capital comes in through faked export invoices, giving Chinese export data an artificial boost of a couple hundred million.)
Taper trouble ahead for Chinese exporters
Recovering US and EU demand in 2014 will likely be offset by yuan strengthening and rising labor costs, says Ting Lu of Bank of America/Merrill Lynch in a note out today. More interestingly, though, Lu calls out two other less obvious concerns, both of which will stem from the US Federal Reserve's decision to taper down quantitative easing, its bond-buying stimulus program.
First, the wind-down of quantitative easing will probably drive up the dollar's value. Since the Chinese government pegs the yuan to the dollar, the yuan could in effect strengthen even more than most expect, which will hurt the competitiveness of its exporters. (Counteracting this trend will require People's Bank of China, the central bank, to buy dollars, adding to its $3.7 trillion in reserves against its explicit wishes.)

Second, the taper will probably weaken currencies in emerging market economies—notably, those in Southeast Asia that are an increasingly major export market for China—and make it more expensive for them to import Chinese goods.
The outlook on Chinese demand
A slowdown in Chinese exports wouldn't be bad at all provided that domestic demand is revving up enough to offset it. More importantly, though, if China is to wean itself off credit-fueled investment without a steep slowdown, its consumers need to start driving growth. As BofA/Merrill Lynch's Lu points out, imports of goods that aren't going to be re-exported—an indicator of domestic demand—rose 13.1% on the previous year. Though it's just one data point, it's still a welcome sign.