US stocks are about as high as they're going to get—barring an unexpected corporate profit barrage, according to Goldman Sachs. The US investment bank's stock analysts write:
We believe S&P 500 currently trades close to fair value and the forward path of the market will depend on the trajectory of profits rather than further expansion of the forward [price-to-earnings] multiple from the current 15.9x. We forecast a modest price gain of roughly 3% to our year-end 2014 target of 1900.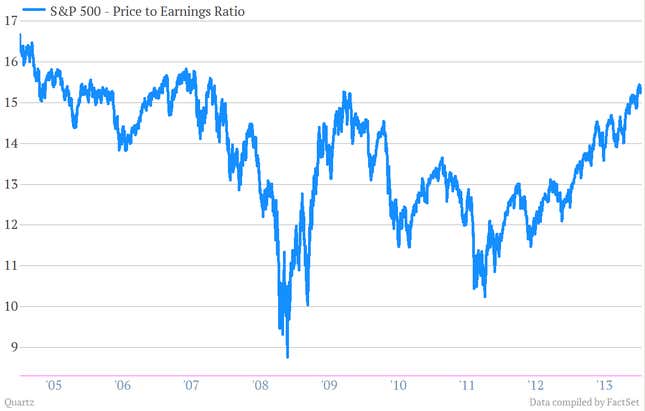 Traditionally, a price-to-forward-earnings multiple—a key gauge of stock valuation—of around 15 is considered roughly "fully valued." (This isn't about actual earnings, however. "Forward earnings" are nothing more than consensus expectations among Wall Street analysts about what corporate profits will be over the next 12 months.)  In layman's terms, that means that it's hard to expect a stock to rise much further unless profits blow away expectations from analysts, who already tend to be optimistic by nature.
Does that mean it's clearly time to sell? Sadly, nothing is ever clear in the markets. Valuation metrics such as price-to-earnings ratios are notoriously poor predictors of short-term stock market moves. Investor euphoria has been known to push prices of stocks far above levels that would be justified by actual profits. (For instance, before the tech stock bubble of the 2000s burst, price-to-forward-earnings ratios hovered above 25 at times.) That means those who sell now could miss out on large gains if the party really gets going in the near future.
At any rate, we'll soon enough get more information on how those actual profits are looking. This week is the first full week of fourth-quarter earnings season in the US.