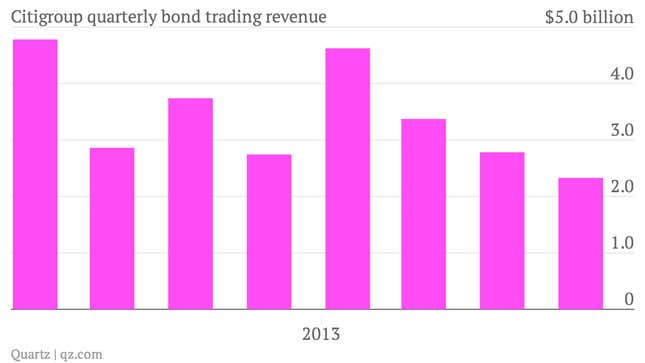 The numbers: Not great. The big international bank didn't fare well in mortgages or bond trading. Still, fourth-quarter profit rose 125% to $2.69 billion. (If you strip out assorted accounting items, net income was up a less impressive 21%.) Revenues fell 5% to $9.47 billion at Citi's important global consumer banking unit, including an 8% tumble in North America, thanks to a decline in mortgage refinancing. (The decline in mortgages also hit peer banks Wells Fargo and JPMorgan Chase.)
The takeaway: Bond trading giveth and bond trading taketh away. Excluding accounting items, bond trading revenue declined 15% during the fourth quarter, compared to the fourth quarter of 2012. Analysts view the bank as being susceptible to a slow down in fixed-income revenues, especially since Citi wasn't able to offset that slowdown by boosting fees from mortgage-making. Some analysts had been lowering their estimates ahead of earnings for the sprawling financial institution.
What's interesting:  It's still not clear how Citi as an institution will emerge from the financial crisis that almost saw it disappear. Former CEO Vikram Pandit was forced out (paywall) about a year and half ago. New boss Michael Corbat has embarked on a sweeping cost-cutting (paywall) program at the firm that has garnered cheers from analysts. But questions still linger about the firm's ability to effectively compete. On the plus side, Citi posted its highest full-year profit since the financial crisis, a tidy $13.9 billion.