The buildings in the video above do not exist. And until a few years ago, neither would the camera angles they were filmed from.
Real estate developers and agents have always used creative imaging techniques to make planned developments look good to potential buyers. From wood-cut models to computer-generated images, anything that can help us imagine what a completed building will look like helps attract interest. The latest tool in their arsenal: drones.
Neoscape, a Boston-based creative studio, stumbled upon the idea of using drones to capture footage after Sean Tierney, interactive director, bought a Raspberry Pi and decided to build his own drone—or "flying blender" as he puts it— using the Pi as his quad-copter's brain. After some experimentation, Tierney and his colleagues decided to invest in a six-rotor hexicopter and a GoPro DSLR camera to film footage for their clients. (They now use an Arduino-based board for the brain.) The video below shows a test flight to get views of the Fort Point area in Boston from over the water. The image further below is the direct result. 
As a result, Neoscape's budgets have fallen and the sort of angles they can get have expanded. In New York, developers can scale a nearby building to get a birds-eye-view of their sites. But in Boston, Neoscape was dealing with "basically just a bunch of vacant lots," says Carlos Cristerna, Neoscope's head of visualisation. That makes getting a dramatic angle from up high a challenge. Until recently, videographers would need to either hire a crane, which can only go so high, or rent a helicopter, which is an expensive proposition. With a drone, it's simply a matter of getting the machine out of a cupboard, taking it to the site, and letting it loose.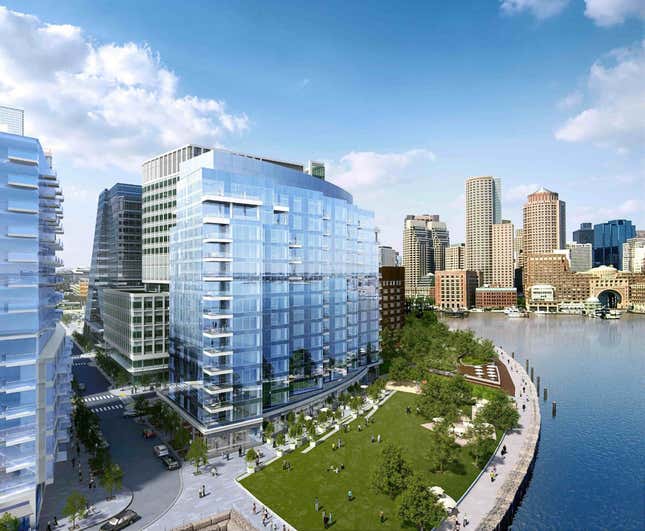 It also means videographers can shoot things they could never before have dreamed of. Sweeping ascents in narrow canyons? Sure. The view from the yet-to-be-built corner office at the top of unfinished tower? Why not. Cristerna says Neoscape's use of drones has enthused his clients but that it has had no noticeable effect on expanding his business. Still, drones affect the bottom line in a different way: They dramatically lower the cost of acquiring aerial shots.