Deutsche Bank's surprise plunge in profits may be the biggest story in European markets today, but the biggest faller among the blue chips is PSA Peugeot Citroën. Shares in the French auto group, Europe's second-largest carmaker by sales, were down by 8% at one point, following two pieces of bad news.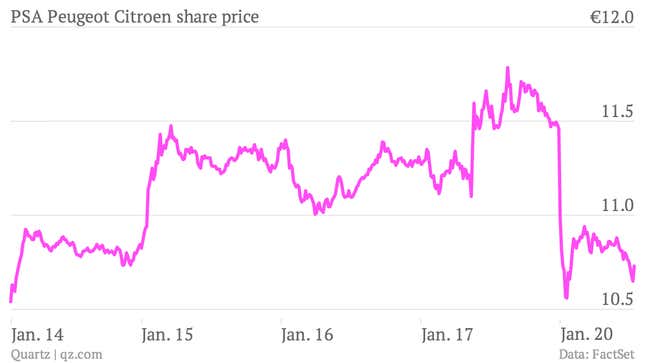 First, the company reported a 4.9% drop in sales for 2013. Peugeot's sales in Europe dropped by 7.3%, much faster than the market's overall 1.6% decline.
Europe accounted for 58% of Peugeot's sales in 2013; the company hopes to reduce that figure to 50% by next year. Sales outside of Europe (and Russia) grew by 15% last year, which offers some encouragement. But cutting costs at home in Europe while investing for growth abroad won't be cheap, which is behind the other reason why the carmaker's shares are getting battered today.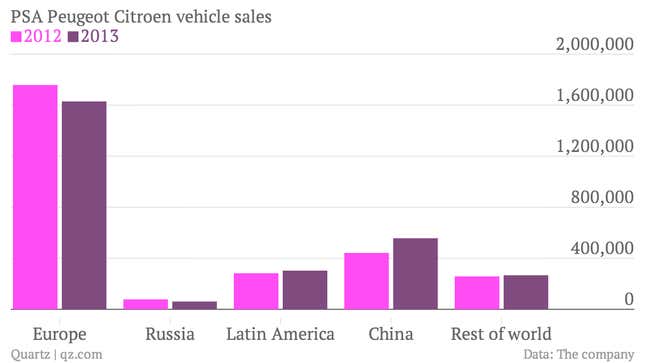 Rumors of a big capital increase are rife, with the French government and Chinese state-owned Dongfeng Motor expected to inject funds in exchange for a combined stake of 30-40%. Market chatter suggests that Peugeot could raise some €3 billion ($4.1 billion) in the end, or around three-quarters of its current market capitalization. The potential dilution for existing shareholders—including the founding Peugeot family, which currently controls a quarter of the group's shares—is spooking traders.
Peugeot and Dongfeng already operate a joint venture in China, so they are familiar partners. The talk of Dongfeng injecting cash directly in the French parent company came after former partner GM dumped its stake in Peugeot at the end of last year.
Peugeot is in some ways the poster child for the auto industry's woes in Europe, where sales of its mainstay mid-range cars are being squeezed. On Peugeot's home turf, it is losing ground to low-cost models like Dacia (owned by rival French firm Renault) and Skoda (owned by Germany's Volkswagen) at the same time as luxury brands like Jaguar and Mercedes attract more buyers among the recession-proof rich. But revamping the cost base, product lines, and geographic reach at a firm that traces its roots back to the 19th century won't be easy, which is why it might take help from two governments to get the job done.