There are few better barometers for global consumer goods demand than Unilever, given its uniquely diverse product range and sprawling geographic presence. So when the Anglo-Dutch company reports results, analysts comb its financial statements and parse its executives' comments for clues on broader spending trends.
Unilever announced its fourth-quarter and full-year results today, beating analyst estimates thanks to stronger than expected sales in emerging markets, which account for nearly 60% of the group's revenues. The company warned in September that slower growth in emerging markets and adverse currency movements would dent its sales, so investors were pleased when the company didn't stumble as much as feared, even if growth overall slipped in 2013.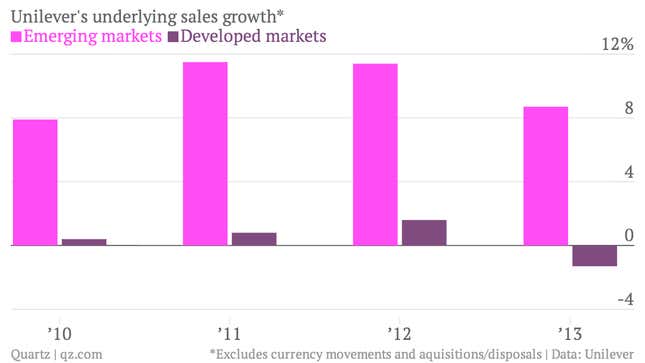 The really interesting stuff, though, comes from the country- and product-level details. Here are a few of the things that caught Quartz's eye in Unilever's latest results:
Business is better in rural India than Italy
On a conference call, Unilever CEO Paul Polman cited "rural India or Indonesia or the North or Central-West of Brazil" as the places where the company saw the best prospects to "unlock future growth." Even when compared with these places, Europe is "probably the most challenging part of the world to do business," he said. The company is cutting costs in response to falling sales, but Polman warned analysts: "Don't get your expectations too high."
Behold the power of TRESemmé
The brand that got the most love from Unilever's CEO during his call with analysts was TRESemmé, a range of premium hair care products. The brand is having "tremendous" success in Brazil, where it launched in 2011. Last year Unilever started selling it in India and Indonesia, with plans to push it elsewhere in the future. "We think it has still a lot of legs to stand on and to expand in many other countries," Polman said. The group's personal care segment was its fastest growing last year, led by hair care products in emerging markets.
A chill sweeps through the market for ice cream
Polman singled out the group's extensive ice cream portfolio as the "main culprit" holding back the group's profitability in 2013. Sales are suffering in its two largest markets, the US and Italy, as it cuts back on the range of products it offers in America while in Italy hard-hit consumers are forgoing "largely discretionary" treats. Emerging markets comprise only 40% of Unilever's ice cream sales, so expect the group to push the sweet stuff outside of the US and Europe in hopes of reversing its fortunes.
Other global hot spots
Unilever highlighted a few other notable pockets of strength in 2013. Knorr's "baking bags" are particularly popular in Latin America, where it expanded the flavors on offer in Mexico to meet demand. Hand and body wash products are growing fast in China, helping Unilever pass €2 billion ($2.7 billion) in sales in the country last year. The Comfort brand's sweet-smelling fabric softeners launched in Vietnam last year, following success elsewhere in southeast Asia—"strawberry and lily" is the most popular scent.