It's been a tough few years for Logitech. The high watermark in sales of PC accessories for the iconic computer mouse and keyboard maker was way back in the last quarter of 2007. So what's behind the company's surprisingly strong most recent quarter?
Two things: One is that it has cut costs to become more profitable. The second is a trick that few companies as embedded in the PC industry have managed to pull off: A successful pivot from PCs to mobile devices. Or, in Logitech's case, the accessories for them.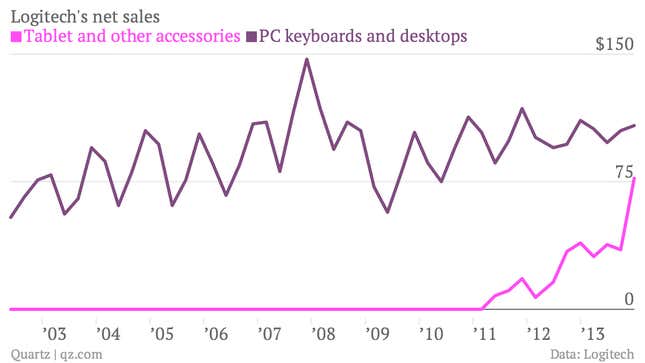 Apple introduced the iPad in April 2010, but Logitech doesn't show any revenue for tablet accessories until the quarter ending in June of 2011. That's the quarter during which Logitech started licensing, manufacturing, and selling under its own brand the already-succesful ZAGG iPad keyboard case. (I was an early buyer of this case, and can attest that it worked beautifully.)
That first quarter of selling iPad accessories, Logitech only made $8 million in revenue on them. This latest quarter, two-and-a-half years later, it was making nearly ten times that, or $77 million, on keyboards and cases for both iPads and Android tablets.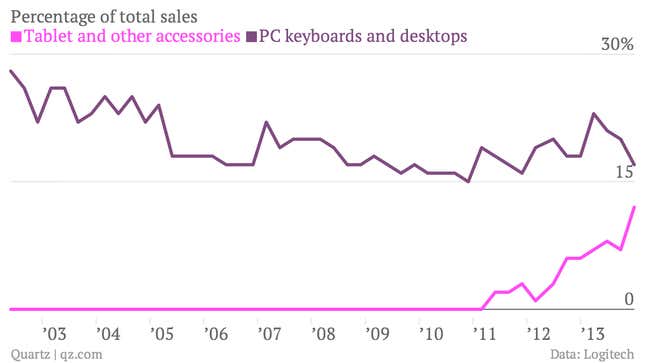 As tablet sales continue to increase and PC sales continue to decline, Logitech's early bet on tablet accessories—which involved an unusual but savvy partnership with ZAGG, which was ahead of Logitech in producing iPad accessories—looks like the kind of far-sighted move that keeps a company competitive even as technology evolves.