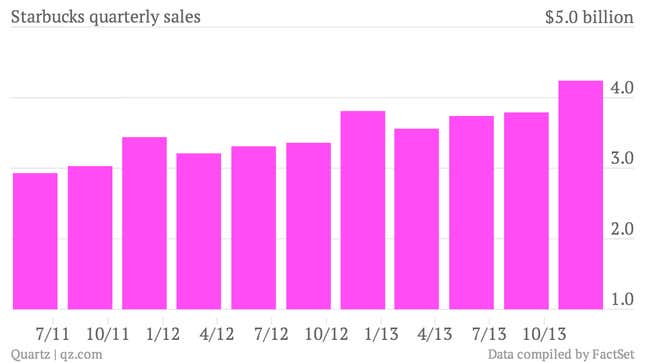 The numbers: Impressive. Starbucks reported quarterly profit of $813 million, marking a near-30% jump from the same period last year. Revenue for the quarter soared to a record $4.2 billion. The company's global comparable sales grew by 5% on the heels of a 4% spike in customer traffic.
The takeaway: Starbucks is firing on all cylinders. The company has found wild success not only with its traditional coffee sales, but also with its broadened menu of options, and even online offerings. "Holiday 2013 was the first in which many traditional brick and mortar retailers experienced in-store foot traffic give way to online shopping in a major way," CEO Howard Schultz said in a statement. And the company has high expectations for 2014; it plans to open over 1,000 new stores globally next year. "Our continued ability to execute at this level gives us the confidence to reaffirm our aggressive growth targets for fiscal 2014," CFO Troy Alstead told investors today.
What's interesting: The success of Starbucks gift cards is staggering. Starbucks customers loaded $1.4 billion onto Starbucks Cards this past quarter. Some $4 billion was put onto cards last year, and 10% of American adults received a Starbucks gift card over the holidays, Starbucks recently told Quartz. Starbucks cards now represent more than 30%, or nearly a third of the company's transactions in the US, the company revealed mid-last year.