Growing up outside Boston, Eliza Becton always felt connected to water. She was an avid sailor from a young age, and even competed in regattas as an undergrad at Yale. You don't have to be a collegiate sailor to be horrified by the existence of the Great Pacific Garbage Patch—a huge floating mass of litter in the middle of the Pacific—but when Becton discovered that, she knew she wanted to work in sustainable design and help reduce the use of plastic.
Today she's the co-founder and head of product at Boston-based Bevi, maker of a data-powered smart water cooler that dispenses still and sparkling water in healthy flavors, motivating users to hydrate using reusable cups.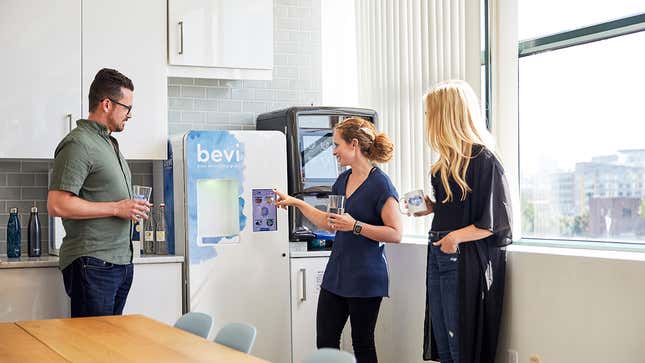 Becton teamed up with her two co-founders, Massachusetts Institute of Technology Sloan MBA students Sean Grundy and Frank Lee, now respectively CEO and head of business optimization and analytics. They wanted to out-design the plastic water bottle. As you can imagine, it took plenty of trial and error: The original prototype—targeted at gyms—worked like a vending machine that produced reusable bottles and went nowhere fast.
But Bevi refocused on offices and produced a machine that would filter, flavor, and carbonate tap water, using real-time data to trigger refills and maintenance and monitor usage. By 2015, they had their first ten customers, and the company has been quickly growing in size with over $60 million in funding.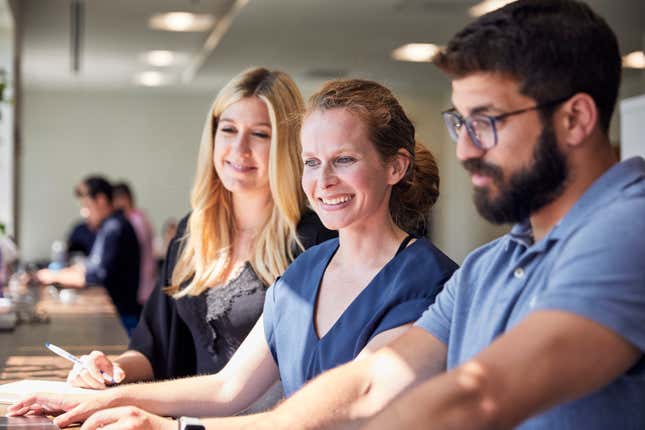 Built on networks around the Boston area, the city has played a key role in Bevi's growth. "Boston's been a great fit for us," says Becton. "There are great schools, and investors that understand what it takes to do Internet of Things. People in Boston are really excited to be doing this work."
Local incubators and accelerators like Greentown Labs and Techstars Boston helped the young company build speed and momentum. And with its history and blue-collar heritage, the city feels grounded as well—a place where people put their heads down and work.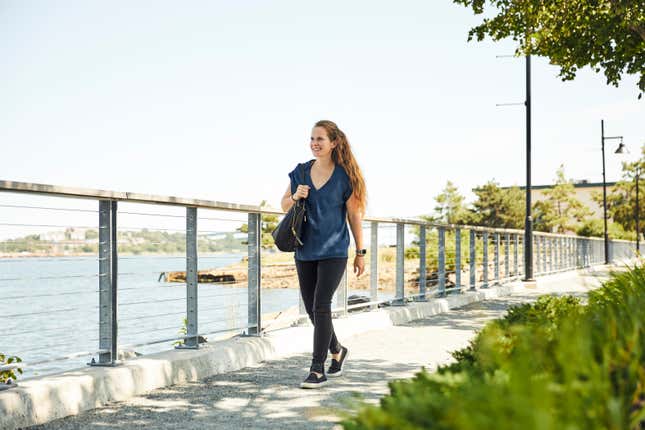 Boston's East Coast location has helped Bevi expand, from the Bay Area to Canada. "It's very convenient for all that seed work," says Becton. The ease of travel has encouraged Becton and fellow executives to take trips internationally for technological exploration, including a recent visit to Hong Kong to test around a dozen machines.
At times, trips for pleasure indirectly influence the company. "I find Japan inspirational," says Becton. "From a design perspective, every little detail is so well thought out. It runs like clockwork."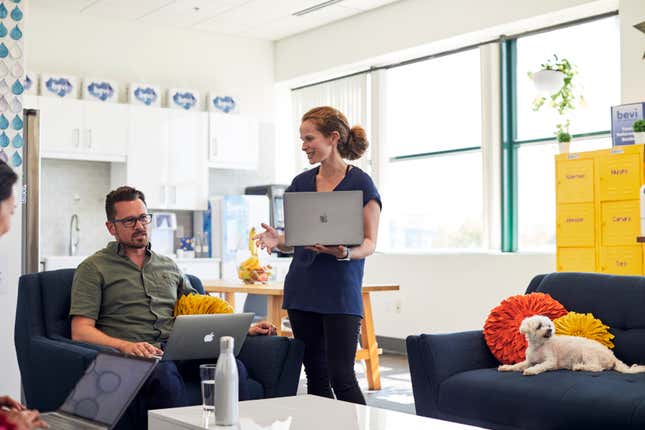 With the seltzer market exploding, for now Bevi is just trying to keep up with current demand. "We try to be laser-focused, which is very hard in a startup because there are always so many things to do. Constantly, I'm trying to figure out what five balls I can drop to make sure I keep juggling the ones I can't let go." says Becton. "We try to take those learnings and be very focused on where we set our sights next."
Founder's playbook: Becton's tips for growth
📓 Get schooled
Various studies will attest to the importance of thriving American towns having a successful university or college nearby. For a growing company like Bevi, schools like Harvard and the Massachusetts Institute of Technology provide a pool of young, enterprising talent to recruit from and network with.
"It's just much easier to be like, 'Okay, I know someone in this community,'" says Becton. "Then you can connect over coffee and have a million new ideas."
📓 Do the hustle
When the early Bevi models were out in the field, "even our CEO and VP of software were out at customer sites making sure that things were going okay," says Becton. "That hustle is necessary when you're faced with a situation like: Okay, something's breaking. How do we learn from this, fix it quickly, and then iterate on that?"
📓 Pursue measured growth
For a sustainably-minded company like Bevi, it's been important to not pursue a strategy of growth at all costs. The desire to satisfy new customers has to be balanced against not just logistics and sales, but the impact on the environment and community. "There are always sustainability initiatives we want to be doing that come at the cost of potential growth."
📓 Embrace embarrassment
Don't be afraid to get your first product out there for review. Even if it's rough, it's worth what's gained in favor of progress and the iterative process. "If you're waiting for perfection, you're probably missing opportunities to learn what you need to change more quickly."
📓 Build your network
Few people can offer advice, suggest resources, and sympathize with an entrepreneur like a fellow entrepreneur. "Get a group going," says Becton. "Even early on at Greentown Labs we had a lot of other entrepreneurs we could talk to about what challenges we were facing. You learn a ton from people that are just a few steps ahead of you."
Startups like Bevi need the right infrastructure and tools to reach their potential. Recognizing the important role that Boston's Logan International Airport plays for the city's thriving entrepreneurial community, Delta has invested heavily in the airport and significantly expanded access to global flight networks. Opportunity is just a trip away. Learn more at delta.com.