This week marks the start of the Chinese Lunar New Year holiday, and offices and businesses are mostly closed. But if you thought that closing down the coal-fired factories that are largely to blame for country's choking air pollution, you would be wrong.
Here's a snapshot of the air quality map on Tuesday, Jan. 28 at 11am in China from Aqin.info, a Beijing-based online pollution tracker. The dark maroon color shows the highest level of pollution, and in some spots particulate matter of 2.5 microns and below, known as PM 2.5, is above the 500 micrograms per cubic meter of air level, which is the very top end of the "hazardous" zone in the US EPA's "Levels of Health Concern" ranking: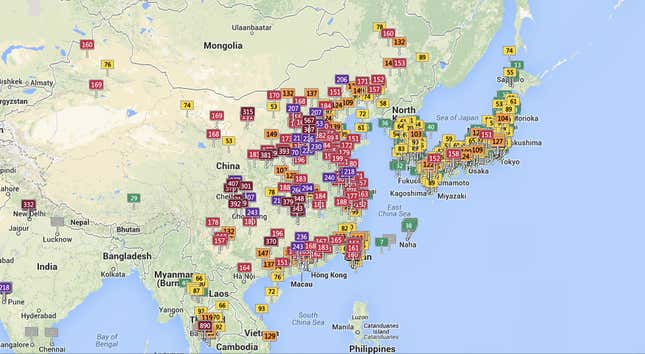 By Wednesday afternoon, it seemed that the the pollution was lessening in some areas, as businesses wound down and China's citizens began their great migration home: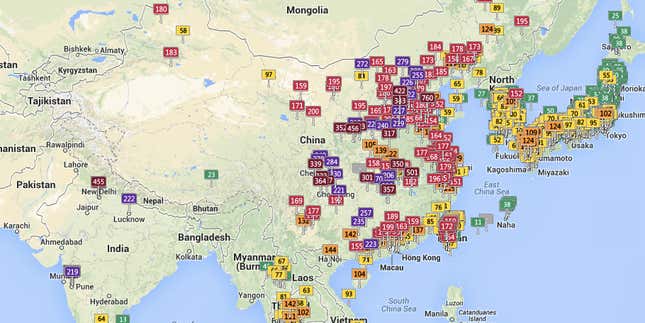 On Friday morning, all government-run factories and most private ones had closed. But pollution levels seemed to have reached new, unthinkable levels, going as high as 999 in some cities. Here's a shot of the pollution map at 8:30am: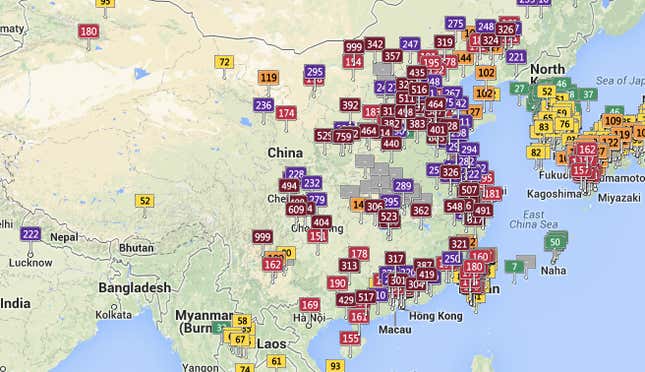 Chinese officials said earlier they anticipated citizens to make 3.2 billion trips by road over the holiday, most of them by bus or coach, which is probably the source of much of the pollution. While officials announced plans to introduce "green buses" in 2012, including making 80% of Beijing's buses run on electricity or natural gas, many buses in China now still burn petroleum, and emission standards lag the EU and US.
Holiday celebrations also contributed in another way—fireworks at a midnight are a big part of New Years Eve celebrations, and there was a spike in pollution after midnight in Beijing. Chinese state media reported, though, that Beijing's air quality had improved substantially from last year, as some residents replaced fireworks with flower-tossing.