Zhu Changhong is pulling a disappearing act—again. Earlier today, media reported that Zhu, the chief investment officer of the State Administration of Foreign Exchange (SAFE), the arms of the central bank responsible for managing China's foreign currency reserves, is stepping down. Known for his extreme low profile—he is called the "Invisible Man"—Zhu has been hailed for his bold push to shed US Treasurys in favor of riskier, higher-yielding assets.
"Zhu's departure is a big loss to SAFE, and to China," Peng Junming, a former SAFE official who now runs Empire Capital Management, told the Wall Street Journal (paywall).
Whether Zhu's stepping down has broader political significance is unclear. SAFE implied that his late Jan. 2014 resignation had long been arranged (link in Chinese), but that won't protect it from losing some clout with Zhu's exit since he hold rockstar status among China's financial elite. The sovereign wealth fund has been jockeying for more authority to manage a central economic problem: protecting the value of China's reserves.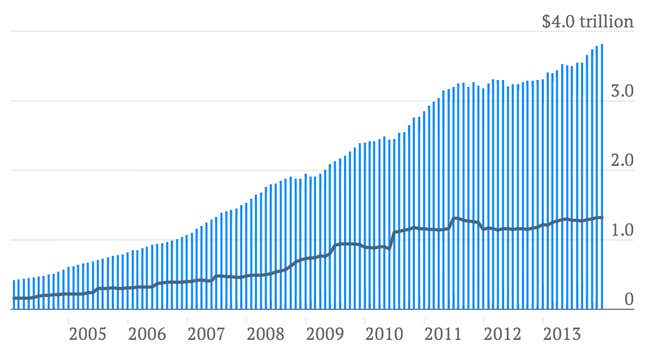 A University of Chicago-educated physicist, Zhu left a cushy life at Pacific Investment Management Co. (PIMCO) to join SAFE as its head investor. It was a risky move. Back then, SAFE was running its investments of foreign currency on autopilot, periodically handing over dollars to the country's more powerful sovereign wealth fund, China Investment Corp (CIC), which operates under the ministry of finance (MoF). CIC launched in 2007 to a great deal of fanfare within China, only to make botched investments in Morgan Stanley and Blackstone. Run until recently by two of the gabbiest, most cosmopolitan of China's political elite, CIC is viewed as the heavy hitter in China's attempts to profit from its vast US dollar reserves.
CIC might be flashier but SAFE technically manages more money ($3.8 trillion, compared with CIC's $575 billion or so, though a significant portion of SAFE's assets aren't liquid). SAFE doesn't provide public information on its holdings or performance. However, Zhu is celebrated for riding the Japanese stock market wave, loading up on Japanese equities in late 2012, reports the Wall Street Journal in its must-read profile (paywall). He was also rumored to be considering buying European debt at that time. During Zhu's tenure, not only did SAFE diversify its investments, it also expanded operations, opening up a new office in New York geared toward investing in real estate and private equity.
Thanks to Zhu's successes, SAFE has resisted official pressure to fork over reserves to CIC to manage, reports the Financial Times (paywall). His narrow focus on generating returns has also sheltered SAFE from other political demands. By contrast, Central Huijin Investments, an arm of the CIC, has been forced to prop up share prices of state-owned banks.
Without Zhu at the helm, SAFE may again find itself jockeying with CIC for financial clout. To stay in the game, its next leader will either need to be as financial savvy as Zhu, or more willing to play politics.