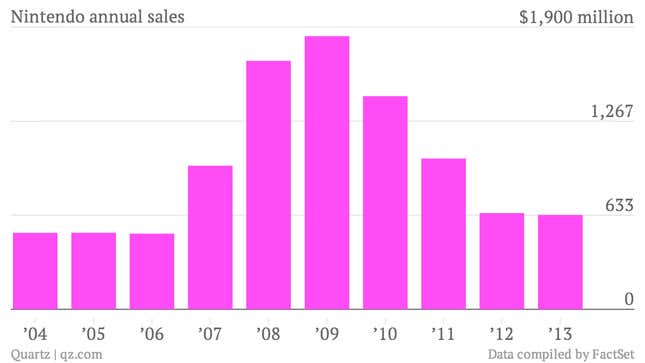 The numbers: Pretty bad. Nintendo reported a quarterly profit of 9.6 billion ($93 million). But both profit and sales are down sharply from last year. Nintendo's profit for the nine months ending on Dec. 31, 2013 fell 30% year-over-year, while revenue dipped 8%.
The takeaway: Virtually every part of Nintendo's business, save for its still lucrative portable 3DS, is tanking (Nintendo sold nearly 8 million handheld 3DS devices in its latest quarter). With both sales and profits tumbling, a tepid market for its Wii U console, and Nintendo still insistent on only allowing users to play its games on its own platforms, it's unclear how the company will recover.
What's interesting: The world is over the Wii. Sony sold nearly as many Playstation 4 consoles in the first six weeks after its launch (4.2 million) as Nintendo has sold in over a year since the launch of the Wii U (5.8 million). Nintendo expected to move some 9 million consoles in the fiscal year ending in March of this year, but by September it hadn't even managed to sell 500,000. Even the nearly 2 million units Nintendo sold in its latest quarter, which includes the crucial holiday season, were almost 40% lower than its sales from the previous year.