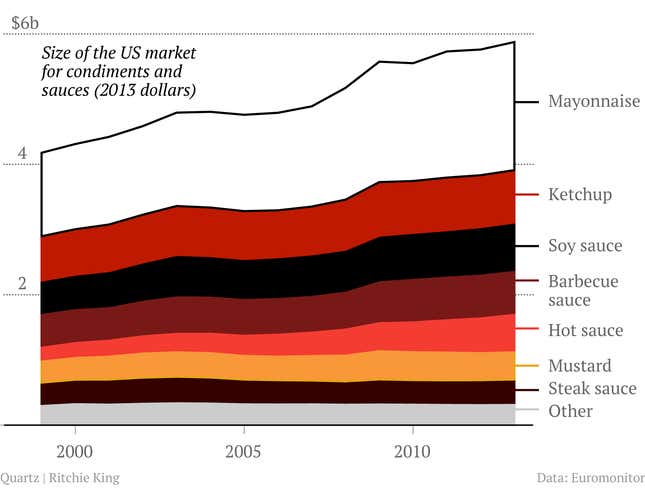 If you think ketchup is king of American condiments, think again.
The US now consumes some $2 billion worth of mayonnaise each year. The ketchup market is worth less than half that—around $800 million, according to data from Euromonitor.
Ketchup is followed by soy sauce, the market for which reached $725 million last year, and barbecue sauce, which came in at $660 million. Hot sauce, for the record—while growing far faster than the others—is still well behind. The American hot sauce industry is worth about $550 million. And mustard, the market for which has actually been shrinking since 2009, is valued at just under $450 million.
(Update: Various readers have asked why salsa isn't included on this list. Euromonitor responds that salsa is, technically speaking, a "dip", not a condiment. So now you know. For what it's worth, salsa would eclipse ketchup, but still be second to mayo.)
The massive American mayo market owes a lot to the condiment's growth from a traditional sandwich add-on to an ingredient in everything from tuna salad to spicy tuna rolls. But it's also benefitted from the blistering rise of low-fat mayo as Americans become more health-conscious. The market for low-fat mayo has doubled since 2005.