Apple's growth is slowing dramatically. In the third quarter of 2019, it generated nearly $54 billion in revenue—a significant sum to be sure, but one that represents a growth rate of just 1%.  As its iPhone sales flag and innovation slows, the company is exploring new territory to secure its future.
Three key areas are emerging as critical to that future: a new generation of hardware, services, and emerging markets in China and India. In this presentation, we explore why and how they'll determine Apple's continued success. We introduce you to Apple's leadership team and show you how the company makes its money. We also explain why Apple needs to decouple its fate from that of the iPhone and re-embrace its old motto, "Think different."
Here's a preview of our presentation on the keys to Apple's future success: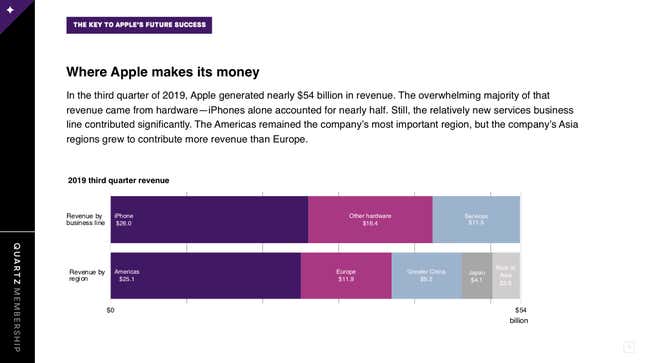 With Americans and Europeans replacing their iPhones less often, Apple is on a search to find its next big product. This search has led the company to explore augmented reality and autonomous vehicle technology. Apple has also renewed its investment in iPads, Macs, wearables, and home devices. But despite these efforts, no new hardware comes close to replacing the iPhone as a revenue generator.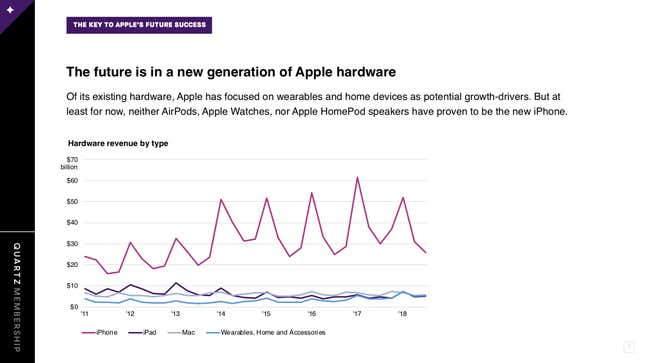 Apple isn't stopping at new hardware: a growing services business is redefining the company's purpose and proving critical to its revenue. New features like Apple Arcade, Apple TV+, and Apple Card broaden the scope of what Apple can do and how it makes its money.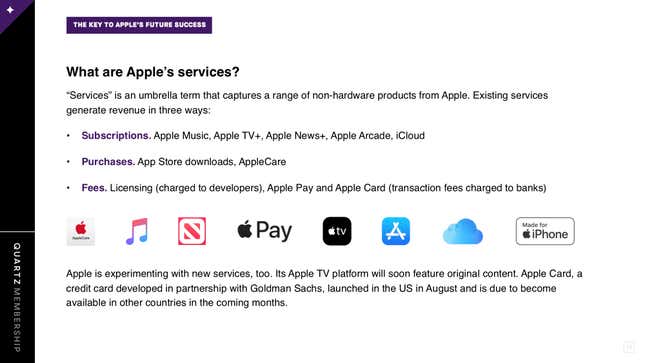 To see all of the slides, view the PDF version or download the PowerPoint file, which includes our sources and notes. This is one of an ongoing series of member-exclusive presentations, which you can read, reformat, and use as you wish.
Please share any feedback about what would make these presentations more useful—or topics you'd like to see us cover—by emailing us at members@qz.com. These presentations are an exclusive benefit for Quartz members. We'd love it if you'd encourage any friends or colleagues who express interest to become a member so they can access them too.