Scarlett Johansson is grappling with a flurry of criticism over her fallout with global charity Oxfam International. Her dual role as a goodwill ambassador for the charity and product pusher for the controversial Israeli soda machine company SodaStream proved too irksome for Oxfam. (The company's factory in the Israeli settlements in the West Bank clashes with a growing boycott of goods produced in Jewish settlements in Palestinian territories.)
Johansson scrambled to justify her dual role on her blog before resigning from her Oxfam post, but she isn't the first celebrity to run into branding wars between companies and charities that shimmy up to a shared glitzy endorser. Here are other examples of the endorsement battles between brands and humanitarian groups over their celebrity ties:
1. Kristin Davis: Ahava vs. Oxfam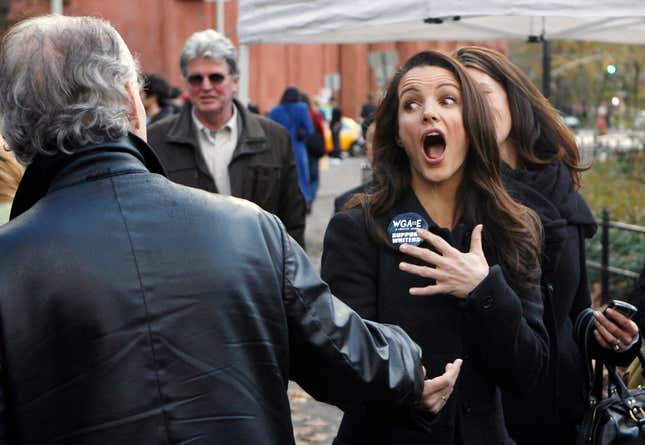 Sex and the City star Kristin Davis faced a similar falling out with Oxfam after partnering with cosmetics company Ahava Dead Sea Laboratories back in 2009. Ahava, as Oxfam cited in severing ties with the celebrity, also manufactured goods in the disputed West Bank territory.
2. Angelina Jolie: St. John vs. Angelina's charity extravaganza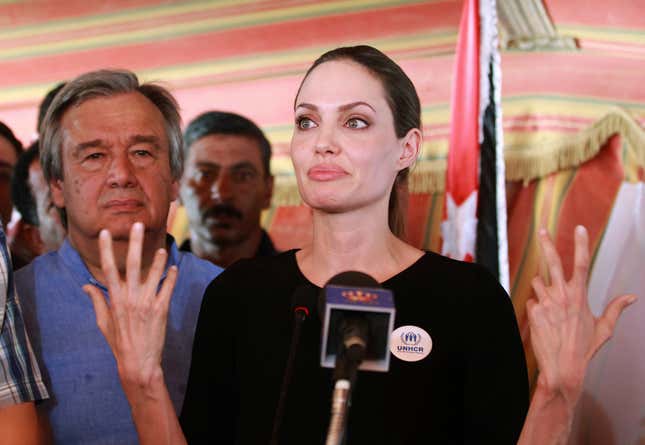 In Angelina Jolie's case, her own charitable brand simply became unwieldy. Apparel company St. John decided to dump her as its spokesperson after Jolie's stature as an actress and do-gooder began to overshadow that of the company.
There's also her famed Louis Vuitton ad, which featured the actress in Cambodia, a poor country, with a £7,000 ($11,500) bag. While Jolie ended up donating a significant portion of her advertising earnings to charity, the stunt  ultimately attracted negative press for both the actress and the apparel brand.
3. Charlize Theron: a fashion fallout with watchmaker Raymond Weil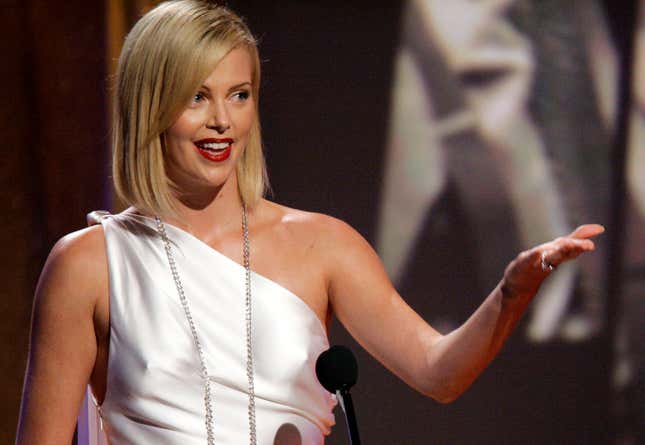 In 2008, Actress Charlize Theron was sued by Raymond Weil after the actress breached an endorsement deal with the watchmaker that precluded her from wearing any jewelry other than Weil watches. Among Theron's mistakes with this brand—there appear to have been many—was the actress's participation in a charity event hosted by the Entertainment Industry Foundation. Theron was pictured holding a Montblanc necklace (which was photoshopped onto her wrist) in a promotional piece for the event (Montblanc was the event's sponsor).
Such controversies have raised questions about whether glam endorsements ultimately trivialize good causes. On the one hand, charity-celebrity partnerships can raise a lot of money for an otherwise little-known cause. Save the Children, according to CEO John Forsyth , owes much of its success to the efforts and participation of celebrities like Bono and Richard Curtis.
But the rise of social media marketing and celebrity news coverage has raised the profile of celebrities and made their opinions, business dealings and personal habits inseparable from their personal and professional brands. As Emily Greenhouse notes in the New Yorker, because celebrity ambassadors for charity aren't trained in the art of diplomacy, hanging moral causes on their image is a risky bet. Especially since the press's main motivation for following celebrities is to catch their biggest blunders, not their good deeds.