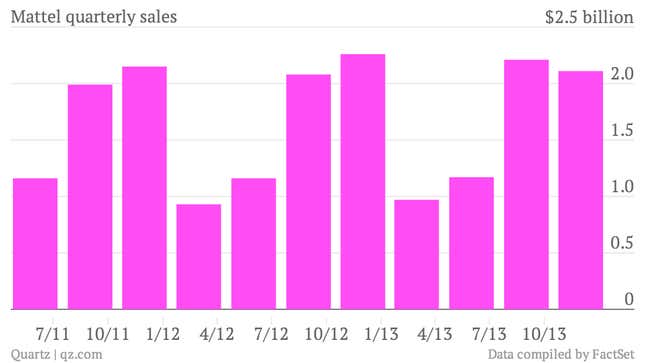 The numbers: Not good. Mattel, the maker of both Barbie and American Girl dolls, reported a profit of $369 million, down from last year's $394 million adjusted figure (Mattel was forced to write down an $87 million litigation charge last year). Worldwide sales were disappointing, too. The $2.11 billion Mattel reported for its most recent quarter mark a 6% dip from the same period last year. Shares were down sharply in pre-market trading.
The takeaway: 2013 was a harsh year for the world's largest toy maker. The company grew its global sales by a meager 1%, led by falling demand for a handful of the company's largest brands, including Barbie, Hot Wheels, and Fisher-Price, the sales for which fell by 6%, 4%, and 6%, respectively. "By every account, 2013 was a challenging and transformative year at retail," CEO Bryan Stockton said in a statement.
What's interesting: Americans are officially tired of toys. Mattel's weakest market, by far, was its US business. Sales in the toymaker's North American region, which includes both the US and Canada, fell by 10% year-on-year. The company's lack of success selling its toys is becoming more and more of a trend in the US (Hasbro, the world's second largest toymaker, has seen its US sales dip, too), and it's weighing heavily on its global ambitions. While Mattel managed to grow its international business by 5%, its US sales fell by 2% in 2013. "We did not meet our growth expectations for the fourth quarter, or the full year, mainly driven by weakness in the US market," Stockton told investors this morning. Even Mattel's fastest-growing brand, American Girl, which regularly posts double digit sales growth, grew by only 3% this past quarter.