There's an old saying on Wall Street: If you've got big hopes, bet on oats.
Actually, no one has ever said that. But maybe they should have.
Prices for the hearty grain have surged this year, making oat futures one of the best-performing commodities so far. Through the end of January, oat futures were up 14.5%. Logistical issues in transporting oats from large producers in Canada to large end users in and around Minneapolis, where major buyers such as General Mills are located, have been pushing prices sharply higher. Few financial bets have done better in the commodities markets this year. (Natural gas, up 18% through the end of January, is a notable exception.)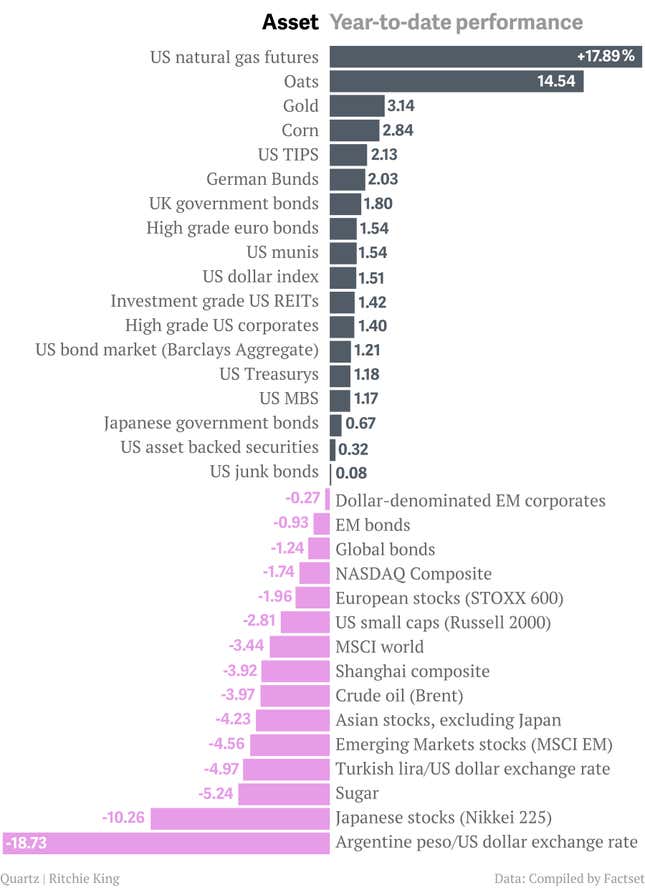 At the other end of the spectrum, some of the poorest asset classes to own this year have centered on emerging markets. The Argentine peso appears to be a particularly poor bet to have made this year, as it's fallen roughly 19% against the US dollar. (Though the "unofficial" devaluation, which factors in black market rates, is much steeper.)
In terms of broader categories of asset classes, Japanese stocks, one of the best performing plays of 2013, is also a laggard early in 2014. The benchmark Nikkei 225 slipped into correction territory today—falling below 10% from a recent peak including early February performance—thanks to a soft report on global manufacturing.
And broadly speaking, safety seekers won the day in January, with safe havens such as German bunds, UK gilts and US Treasury inflation-protected securities (TIPS) gaining on the month, according to benchmark bond-market indices.
Granted, 2014 is far from over, so it's hard to make a call on winners for the year. And commodities prices can be notoriously volatile, so don't go putting all your money into oats and natural gas after the January run-up unless you're fond of casino-style gambling.