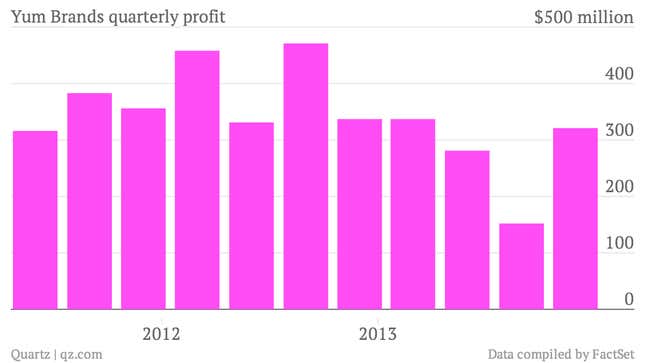 The numbers: Meh. Yum Brands Inc., which owns KFC, Pizza Hut and Taco Bell, reported a fourth quarter profit of $321 million, down nearly 5% from the same period last year. Sales for the quarter came in at $4.18 billion, below analyst estimates of $4.25 billion. Yum Brands shares are down slightly on the news.
The takeaway: 2013 was a tough year for Yum Brands. The company's sales and profits tumbled last year—by 5% and 32%, respectively, largely due to to the struggles of KFC. "It has been a challenging year for us, especially with the KFC brand," CEO David Novak said in a statement. The only real positive sign for the fast food holding company is the success of its Pizza Hut casual dining chain.
What's interesting: China is scared of KFC's chicken. A series of poultry-related setbacks in the country, including a supply incident in 2012 and number of avian bird flu scares (the most recent of which came only last week) has deeply affected Yum's China business. "Now unfortunately, right after the poultry incident, avian flu arrived in China. And that actually took a lot of people just completely out of poultry and didn't want to even think about it," Novak admitted this past December. Indeed, profits in the country declined 23% last year, same-store sales dipped 13%, and overall revenue was flat. Yum can only hope the chicken aversion dies out, considering that the company has relied on China for its growth and a good chunk of its business. Nearly half of Yum's profit came from China in 2012.