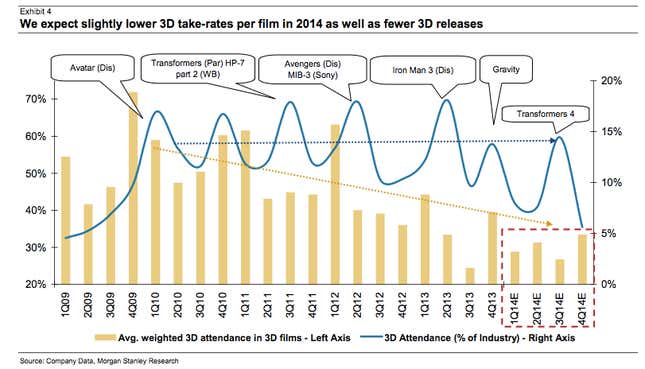 The 3D movie has been around, in various forms, since the 1950s. But has the medium, often derided as too expensive and over-hyped, finally arrived as a serious economic force in the entertainment industry?
New research suggests so. While 2013 was a record year for US box office returns, with $10.9 billion in ticket sales, analysts at Morgan Stanley argue that 2014 won't be a repeat, mainly because of fewer 3D releases (it estimates the release of 28 compared to 34 last year) and lower attendance rates  (39% compared to 42% last year)  for those 3D films that are screened.
Last year's ticket sales were boosted by unexpectedly strong performance from Gravity, which generated an unprecedented 80% of its box office sales from 3D screens. Pixar made 3D versions of Frozen and Thor: The Dark World, two other box office over-achievers.
Yet the 2014 film slate looks comparatively uninspiring, Morgan Stanley argues. There is no Pixar film slated for release, for example. As we've already discussed, Lionsgate's Divegent could offer a pleasant surprise; Marvel's Guardians of the Galaxy and Paramount's Christopher Nolan-directed Interstellar are other titles to keep an eye on.
But investors in stocks like AMC Entertainment, whose shares have performed strongly since its IPO late last year, shouldn't be too concerned, because 2015's box office lineup looks a lot better.  Box office returns for films that have upcoming sequels slated for 2015 totaled $4.1 billion, which is a 10% increase from the films with sequels scheduled for 2014, Morgan Stanley says. Big sequels in 2015 include the Star Wars installment, the Hunger Games finale and a sequel to The Avengers.