The Lunar New Year holiday is about more than a trip back home for many of China's upper and middle class citizens. It's also a peak time to take a family or romantic trip, the farther flung the better to escape the maddening crowds that clog China's roads, railways, and airports during the peak travel season
Europe's capitals are welcoming a deluge of Chinese visitors this week, intent on shopping for luxury brands and sightseeing. Macau, the Portuguese-influenced special administrative region of China is expecting 2.6 million visitors this week. In contrast, less than two million pilgrims performed Hajj in Mecca, Saudi Arabia, last year, 1.4 million of them from outside the country.
It's natural, then, that these Chinese tourists sometimes wind up rubbing elbows with the crowds they thought they left behind at home.
In a much-forwarded blog post, a catering manger from Shenzhen wrote on Sina Weibo that he traveled Siam Reap, Cambodia to escape the crush at home this Lunar New Year—but when he went to a hilltop to watch the sun set, 280 of the 300 people there were his countrymen. "Chinese had occupied the mountain. All that was missing was a red flag," he wrote.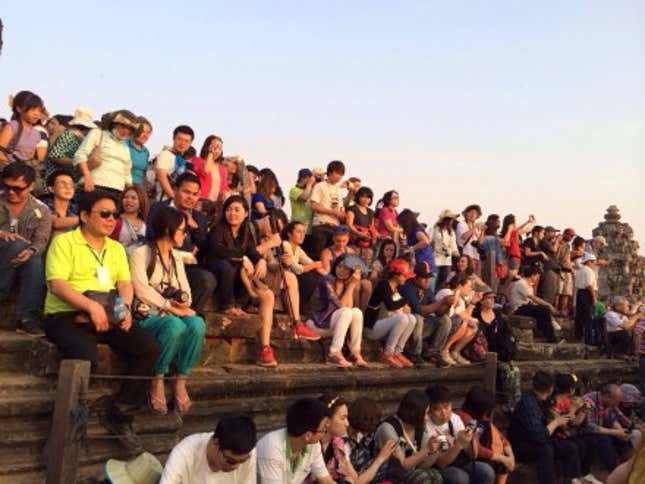 "So this is the real purpose of the Chinese holiday—to gradually take over the world!" a commentator replied. "If next spring we all agree to plant the flag at the same time, how spectacular," said another.
About 100 million Chinese went overseas in 2013 and that figure is expected to double by 2020.
China's tourism mainstay continues to be domestic trips, both during Chinese New Year and the rest of the year. Chinese tourists made some 3.2 billion trips in China last year, more than 32 times the number of international trips, and double the number they did just five years ago: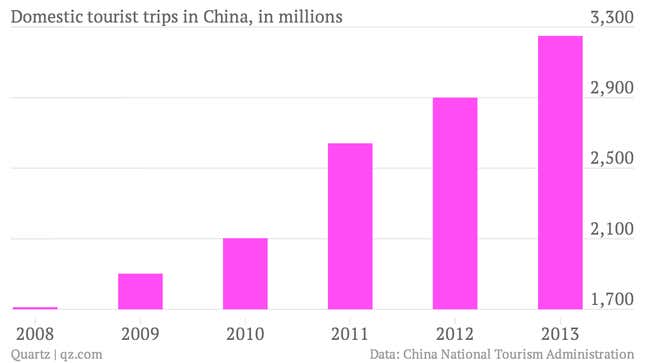 That led to scenes this weekend like this one in Gulangyu, a car-free, .77 square mile (about 2 km.) island off of Fujian Province in southern China, which was swarmed by over 100,000 visitors in just 24 hours: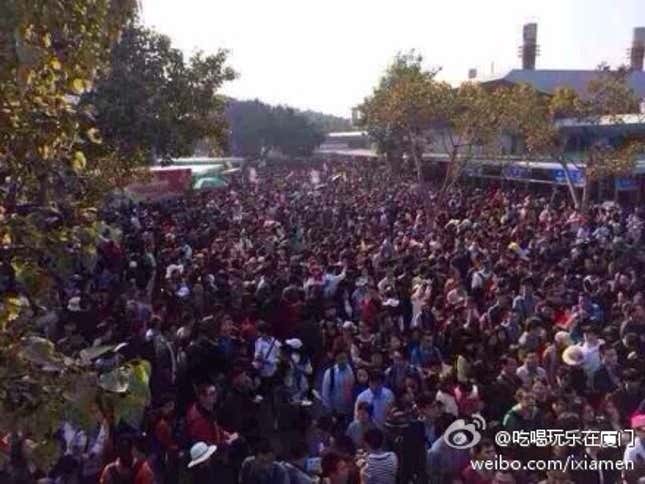 It was a similar scene in Sanya, a popular beach town on the southern island of Hainan that was overrun with visitors (photo slideshow) this weekend. Many of them were not too happy with the situation."So many people, crowded together. Like going to a the market," one complained. "I just came back from Sanya," said another. "Do not go."
Jennifer Chiu contributed reporting.