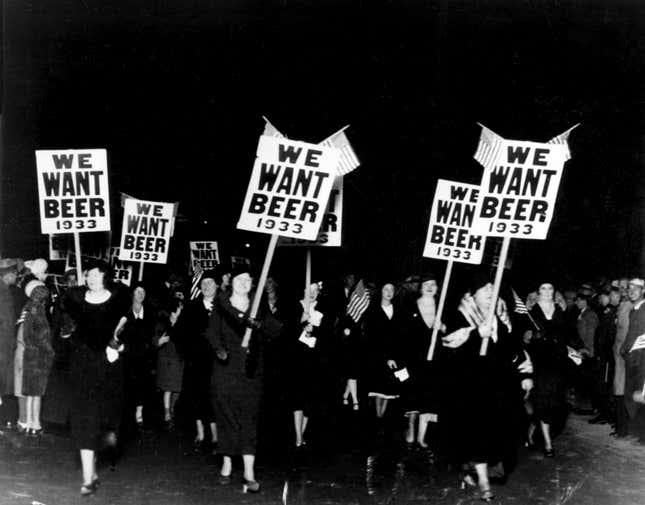 The spirit of the '80s is alive among American beer makers.
The 1880s, that is. The chart below shows the number of breweries in the US, which fell to zero in the prohibition years, but ended 2013 at the highest level since at least 1887. This is mainly due to the well documented explosion in popularity of craft beers and breweries.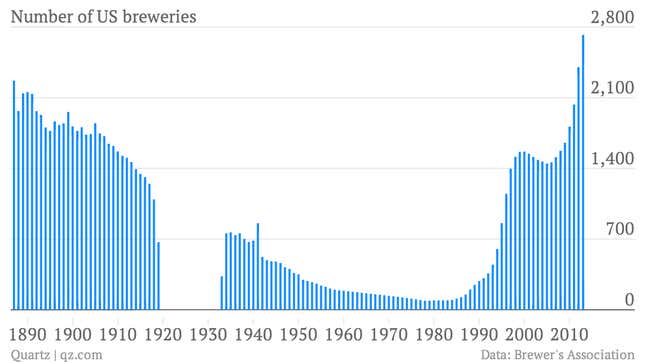 But this morning there's technically one fewer independent brewery, after another craft beer company fell into the hands of an international beer giant. Anheuser-Busch InBev, the company behind Budweiser and Corona beers, bought New York based Blue Point Brewing Company for a reported $24 million. It's not difficult to understand why.
According to the Colorado based Brewer's Association, beers made by craft brewers (which it defines as small, independently owned, and traditional) accounted for 6.5% of volumes sold in the US beer market in 2012. That is up from 2.7% in 2003. By contrast, non-craft beer sales accounted for 79.6% of total beer volumes in 2012, down from 85.7% in 2003. Anheuser-Busch InBev has already been active in craft beer. It bought Chicago's beloved Goose Island brewery in 2011, and has expanded production at the brewer significantly since then.
This is part of a bigger story that goes beyond the world of beer. In rich countries, consumer tastes have tilted toward local, craft-conscious brands. And that represents a real challenge to food and beverage behemoths who've built their business on consistent, shelf-stable products that endure the travails of distribution. Anglo-Dutch margarine-giant Unilever's recent acknowledgement that butter has a place in its product portfolio is another notable example of a similar shift.