Just ask one of the world's largest margarine makers.
Anglo-Dutch consumer products giant Unilever spent more than 20 years trying to beat butter at its own game. But the maker of Flora, Country Crock, and I Can't Believe It's Not Butter, appears ready to give up the fight.
"For the last 20 years or so, we have been too obsessed, overly obsessed on the fact that butter was opposed to margarine," Antoine Bernard de Saint-Affrique, the head of Unilever's Food division, told investors last month. "I'm happy to say that this time is over and we have changed. And we have changed in a very significant way."
In what Unilever executives describe as a "fundamental turnaround," the consumer products giant is now selling a spread made with butter. The company began making Rama, Germany's best-selling brand of spreads, with butter back in September.
The move amounts to a stark about-face for a company that has been an anti-butter bastion for years. ("Some people say it's bread and butter, but here we say, it's bread and margarine," Bernard de Saint Affrique told investors back in 2010.)
But the reversal is a wise one.  As the locus of health and nutrition concerns have shifted away from fat content and toward worry over processed foods, margarine sales have tanked. In the US, margarine consumption is at a 70 year low. Since 2000, sales are down by more than 30%.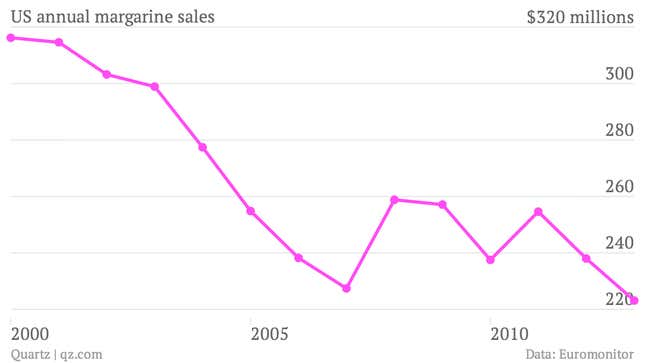 Meanwhile, butter consumption in the US hit a 40 year high in 2012. Sales are up by over 65% since 2000.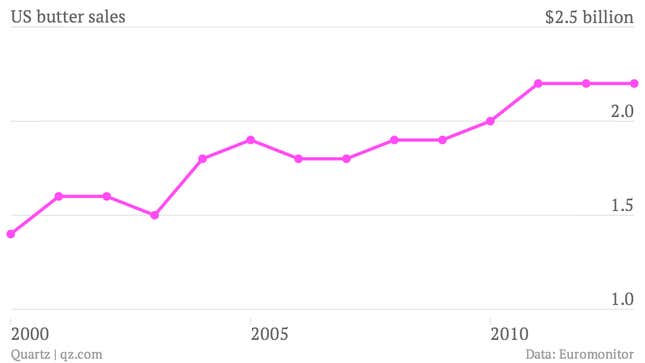 "Margarine has become a marker for cheap, processed, artificial, unhealthy food," nutrition professor Marion Nestle told Bloomberg. Narratives about butter's unhealthfulness have also reversed themselves.
But Unilever's changing stance on butter is more than just a product-line tweak. Margarine is deep in the DNA of the consumer products behemoth, which was created by the merger of British soapmaker Lever Brothers and Dutch processed foods group Margarine Unie in 1929. (The pair's common dependency on fats and oils as raw materials was the rationale for the deal.)
It also underscores a common challenge global food and consumer goods firms—from Unilever rival Procter & Gamble to giant brewers such as SABMiller—face in trying to appeal to developed-market consumer tastes that have tilted toward smaller-scale, locally produced products—think craft beers—and away from mass-produced, shelf-stable items that have driven profits for decades.