Line, a messaging app from Japan with over 340 million users worldwide, this morning reported earnings of ¥12.2 billion ($120 million) for the fourth quarter of 2013, a jump of 550% over the previous year. (Line did not disclose how much of that it got to keep in profits.)
In fact, according to App Annie, an analytics firm, Line also raked in the most sales, worldwide, of any non-game app in both Apple and Google's stores in 2013.
Over 80% of Line's revenue comes from sources that have nothing to do with advertising, proving that there is a a way to be free and make money without having to rely solely advertising as a business model. Another world is indeed possible.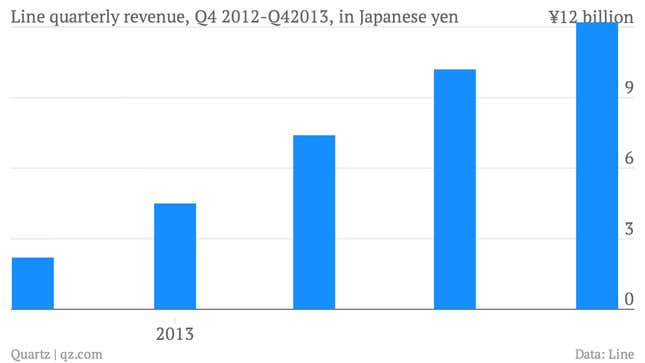 Yet the picture is not as clear cut as it might seem at first glance. Line famously makes its money from "stickers," or sophisticated emoticons. The oversize icons accounted for 20% of Line's revenue in the fourth quarter. Still, that's down from 27% in the second quarter, and is the only part directly attributable to the main function of the app, which is messaging. Another 20% comes from "others", which includes both stuffed toys and the like, as well as "official accounts and sponsored stickers," a form of advertising.
But the bulk of Line's revenues—60%—come from getting people to buy things its selling—a business model as old as business itself. In truth, it is not entirely accurate to call Line a non-game app.
Line users spend their money on virtual items for the games Line offers through an affiliated app. The games are free but things like additional levels, powers and tools are not. In making most of its money through this model, Line is very much like the vast majority of profitable apps: games crowded the top 10 lists of both most-downloaded and highest-earning apps in 2013. Nine in ten of all games apps are free, and they accounted for 93% of revenue for games apps in 2013. Line just isn't counted as one of them.