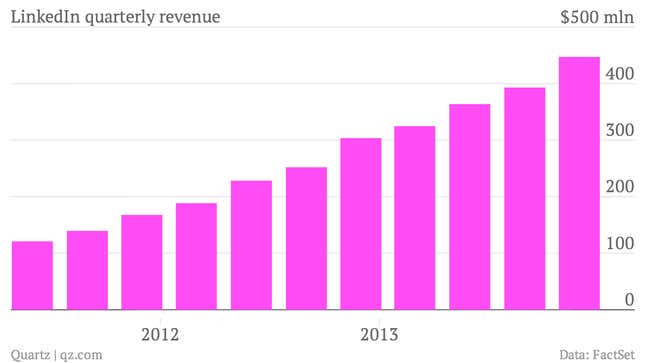 The numbers:  LinkedIn's net income in the fourth quarter was $3.8 million, down from $11.8 million a year earlier.  The company narrowly beat earnings estimates, reporting earnings per share of $0.39 versus expectations of $0.38. But guidance for the first quarter and this year was lower than analysts had forecast, which sent shares down 8% after hours. LinkedIn forecasts $460 million in revenue for the first quarter, below the $470 million Wall Street analysts expected. And the company estimates revenue for the whole year will range between $2.02 and $2.05 billion versus analysts' forecast of $2.165 billion.
The takeaway:  LinkedIn is recommitting to its most important business by revenue, the one average users don't really see. The company invested in talent solutions, its company's suite of tools for corporate recruiters, by acquiring competitor Bright for $120 million. That's its largest acquisition ever (just slightly more than it paid for SlideShare.) Talent solutions represents 55% of LinkedIn's revenue. The acquisition knocks down a competitor, puts more data scientists on LinkedIn's team, and could strengthen its ability to match recruiters with jobseekers and vice-versa. The company recently raised its prices for talent solutions, and Bright's capabilities could add to the value of the service.
What's interesting: Investors didn't seem to care about the company's narrow earnings beat or growth in users from 255 million to 277 million. Instead they focused on the lower-than-expected revenue forecast. Twitter, in contrast, saw shares plummet after it disappointed yesterday on the user side—even though its revenue beat expectations. Each of LinkedIn's major revenue sources is growing: the talent solutions group grew to $245.6 million, the marketing group to $113.5 million, and paid subscriptions to $88.1 million. But the company was cautious in its estimates for the year as it spends on what it calls "significant long-term investments," including a 30% sales force expansion and building its business in China.