Skiing appears to be headed downhill in the US—traditional, alpine skiing, anyway.
The number of alpine skiers fell from over 11 million in the 2010/11 season, to just over 8 million last year, according to data from Snowsports Industries America (SIA). That's barely more than the roughly 7.4 million snowboarders who hit the trails in the 2012/13 season.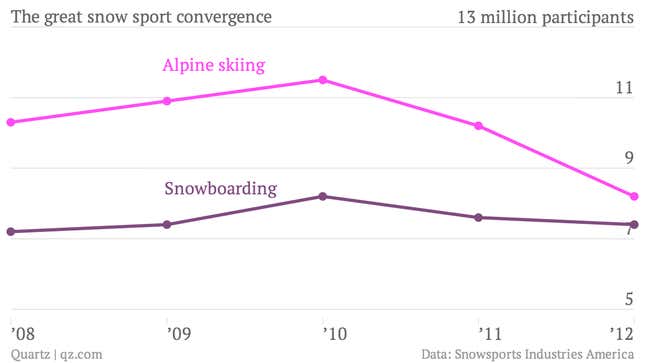 A closer look at the ski sector, however, shows that the shrinking number of alpine skiers is actually being met with an equal but opposite push toward freeskiing, which includes both half pipe and park skiing, which is more focused on jumps and other tricks. Freeskiing has risen by 100% since 2008, and boasted some 5.4 million participants last ski season.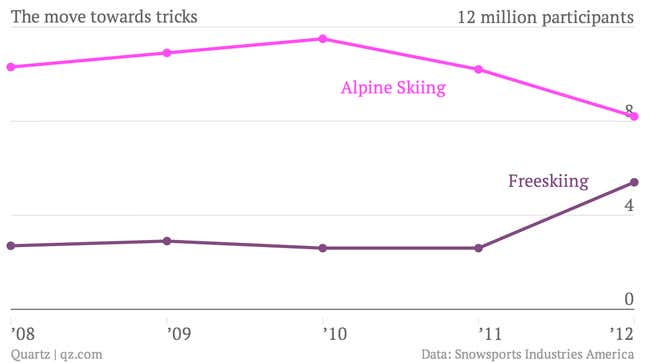 "We were seeing a shift in the mid-2000's in skiing that was indicated by a surge in twin tip sales [the type of skis used for freeskiing] and anecdotal evidence of a new ski culture growing in terrain parks," a Snowsports spokeperson said in an email.
A good deal of that trend can be explained by a shift in demographics toward younger skiers. Over 70% of freeskiers are under the age of 34, compared to the about 59% of alpine skiers who are under the age of 44, according to a study by SIA. The concurrent fall in traditional skiing appears to come on the heels of a number of trends, including an aging population, erratic weather, which threatens high altitude ski conditions, and the increasing popularity of snowboarding.