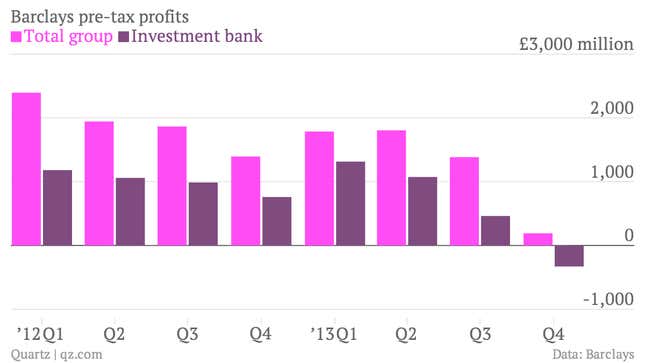 The numbers: Grim. Barclays reported a pre-tax profit of £191 million ($314 million) in the fourth quarter, down a whopping 86% from the previous year. The group had already flagged bad news by announcing a drop in full-year profit, which it released ahead of schedule yesterday, but investors still didn't like what they found in the full details released today; the bank's shares promptly sank in early trading.
The takeaway: All eyes are on the group's investment bank, which accounts for around 40% of its revenue. The division slipped to a fourth quarter pre-tax loss of £329 million, from a profit of £760 million a year earlier. As at other banks, fixed-income trading was weak in the fourth quarter; revenues from bonds, currencies, and commodities fell by 16% in the three months to December. This wasn't as bad as Deutsche Bank's 27% decline but well below the 4% fall recorded by the five largest American investment banks, according to Bloomberg.
What's interesting: Much of the disappointment in the bank's bottom line is due to higher-than-expected costs. Barclays CEO Anthony Jenkins considers costs to be the crucial "strategic battleground" for banks in the coming years. "Those who control and get on top of it will be winners, and I intend Barclays to be in the vanguard of that group," he said on a conference call. Which is why the bank is coming under fire for boosting its 2013 bonus pool by 10% (and 13% at the investment bank). Overall, the group's cost-to-income ratio rose to 71% last year, well above its 2015 target in the "mid-50s." Jenkins has pledged to trim nearly £2 billion in costs by 2015, which will include some 12,000 layoffs across the group. Given its recent record, investors remain to be convinced whether the bank is willing, or able, to cut its expenses down to size.