Turns out, predictions that American bacon prices would fall this year might have been a tad premature.

We wrote about record-setting US bacon prices back in December and said they'd soon take a dive. But the swine industry is facing a new headwind, and it is pig diarrhea.
This week, the US department of agriculture lowered its pork production estimates for 2014 by 1.4%, citing reports that the Porcine Epidemic Diarrhea virus (PEDv) is continuing to spread.  PEDv gives pigs severe diarrhea and vomiting, killing just about every young infected piglet that's still nursing. The virus has claimed an estimated 5 million pigs already in the US.
The disease was first identified in US swine herds in May of last year, and began to spread in the spring. It has been found in more than 20 US states, the latest being  Montana, and has spread to Canada. It doesn't affect humans, just live pigs. And it's driving up lean hogs prices, which have spiked by as much as 16% this year.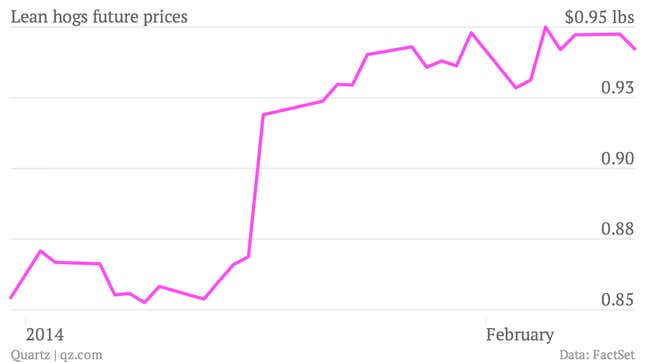 It's hard to say if bacon prices will go up because of this, but they certainly won't go down, according to Steve Meyer, president of Paragon Economics. When hog prices go up, "retail prices usually don't adjust until several months afterwards," he recently told the Canadian Broadcasting Corporation. Time to replenish your bacon stash.