The good news: Last month's Chinese trade data is defying signs of a slowdown in the world's second largest economy. The bad news: the improvement might be completely fraudulent.
According to official figures, Chinese exports grew 10.6% and imports rose 10% in January from a year earlier; analysts were expecting either zero growth or a decline, after manufacturing output shrank in January. The comparisons were tough too: last year's exports for the same month had risen by 25%.
In fact, the January 2013 figure was considered to be so inflated that officials finally pledged to crack down on the practice of over-invoicing—a trick that Chinese businesses use to get around capital controls and smuggle billions of dollars into the country. As Quartz explained at the time:
Chinese companies get VAT refunds of a standard 17% on overseas sales. This often leads them to generate fake exports (pdf p.1). This requires producing fake invoices to show to the taxman. And China is home to a well established cottage industry of companies that offer to generate the fake paperwork (paywall) needed to achieve this.
It doesn't look like that campaign has done much, as can be seen in the vast discrepancies between China's reported exports to Hong Kong and Hong Kong's reported imports from China.
As we pointed out earlier this month, this gap has been growing since 2010. And the nonprofit group Global Financial Integrity estimates that almost $100 billion flowed into China over the first half of 2013 through fake trade invoicing.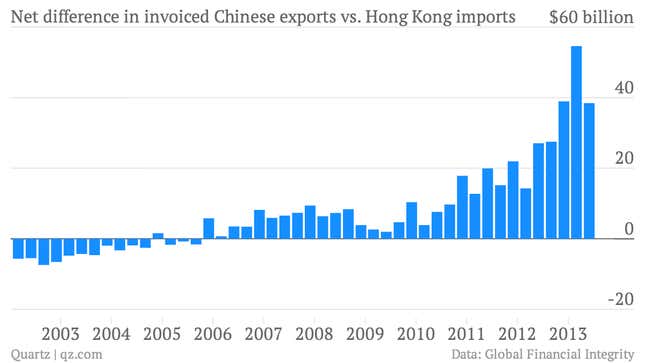 Despite the purported government crackdown, Chinese companies seem to be over-invoicing with impunity. "We are left with a nagging feeling that perhaps issues such as over-invoicing have risen sharply in intensity early this year," said Louis Kuijs, an economist with RBS told the Financial Times (paywall). Jackson Wong of Tanrich Securities said, "Since last year, everyone knows we can't take these [China] export/import numbers seriously."
Still, stock investors still took heart over the data. The Shanghai Composite and Hong Kong's Hang Seng index were up 0.15% and 0.1%, respectively, by mid-afternoon. The Australian dollar, which investors see as linked to Chinese growth also rose 0.2% to US$0.9063.