The twin giants of Spanish football—Real Madrid and Barcelona—are still the world's wealthiest football clubs. In the 2012-2013 season, they generated combined revenue of €1 billion.
They remain way ahead of their long-time rivals, Bayern Munich of Germany and England's Manchester United, and two new-money upstarts. The fifth- and sixth-largest teams in the world are now Paris Saint-Germain (PSG) and Manchester City, both of whom have been recipients of huge Middle Eastern investment in the past five years.
But there are powerful voices in Spain who would like to reign in Real and Barca, and in doing so make Spanish soccer more egalitarian, and more like its American cousin: Major League Soccer (MLS). Compared to the MLS, La Liga and the other top European leagues are free markets gone wild. There are no caps on squad size, or total or individual wages. The rich are encouraged to get much, much richer and the poor to do their best to keep up. After years of watching Real and Barca obliterate all before them—the two have won 16 of the past 20 titles—moves are afoot to make the league's football more competitive. And that begins by eroding the giants' financial advantage.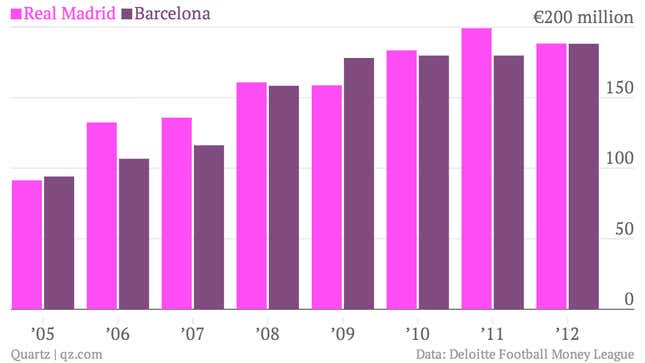 On first glance, the positions of Real Madrid and Barcelona at the top of football's money tree look secure. Unlike PSG, where commercial deals created almost two-thirds of the club's revenue, Real and Barca's fortunes are built on three relatively equal streams of match-day, commercial, and broadcasting income. Of these, commercial income is the most solid. Barcelona signed its first-ever commercial shirt-sponsorship deal in 2013 (after holding out 20 years longer than everyone else) and recently leapt ahead of the game by signing a deal with Intel to put the firm's logo inside the shirt. Real Madrid's most recent shirt-sponsorship deal, with Emirates Airline, is worth 30% more than its previous one.
Match-day revenue looks pretty safe, too. The clubs are all-but-guaranteed a set number of fixtures in the domestic league and the European Champions League; Real  Madrid's Bernabéu Stadium seats over 80,000, while Barcelona has recently announced plans to expand to its 98,000-capacity Camp Nou.
However, unlike rivals in England, France and Germany, and even their closest challengers in Spain, Real and Barca are poised to see the growth in their broadcasting revenue curtailed, for several years at least. Currently, the two clubs are able to negotiate a price for coverage of their league matches on an individual basis. Because of the demand for their games, Real and Barca receive close to €300 million for their domestic rights; this is about the same as the other 18 clubs in the league combined. This number has also been rising rapidly in recent years.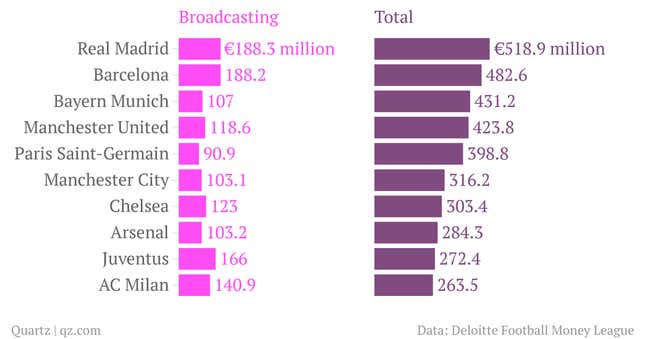 As a result, La Liga is a competition of both spectacular financial inequality and predictable outcomes. To make the league more competitive, the Spanish parliament is to debate a new sports law this year that would ensure that no club could earn more than four times the broadcasting revenue of any other. The favoured mechanism to achieve this is to cap Real and Barca's rights income at the current levels until others in the league catch up. The extent to which this affects the clubs' performance on the European stage depends on the response of the broadcasting market. However, it is unlikely that the recent rapid growth Real and Barca have seen in the value of their rights will continue, if it means that broadcasters also have to shell out more to the other 18, less fashionable clubs. But, given the lead that Real and Barca have over their domestic rivals in matchday and commercial income, the biggest beneficiaries, in the money league at least, are likely to be the other big European clubs: Bayern, PSG and Manchester City.