In the first three quarters of 2019, fintech startups received $24.6 billion in funding. The sector's unicorns—58 companies including the likes of China's Ant Financial, the US's Stripe, and Germany's N26—are valued at a combined $213.5 billion. Fintech went from being virtually unheard of a decade ago to capturing the interest of both venture capitalists and the public.
Quartz's latest presentation walks you through the fintech boom: the hype surrounding these new financial services platforms and the evidence that they are disrupting traditional banking.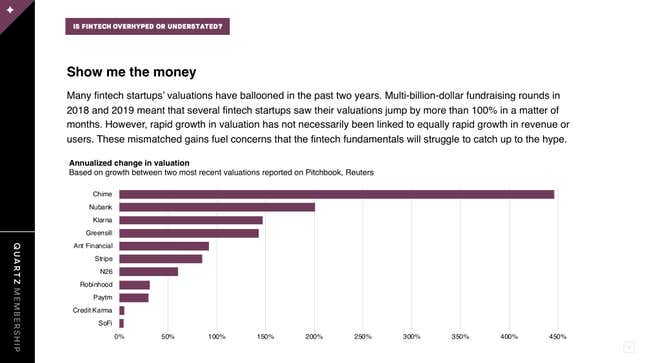 Many fintech startups' valuations have ballooned in the past two years. Multi-billion-dollar fundraising rounds in 2018 and 2019 meant that several fintech startups saw their valuations jump by more than 100% in a matter of months.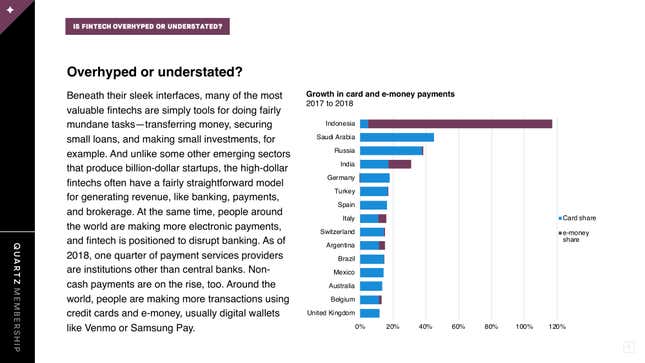 At the same time that valuations seem to have become untethered from startups' financial reality, demand for financial services platforms seems greater than ever. Indonesia leads Bureau of Industry and Security (BIS) countries with the sharpest rise in card and e-money payments: 112% growth in from 2017 to 2018.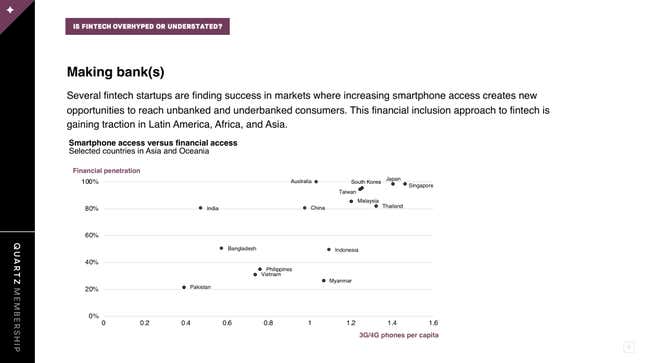 Fintech startups in emerging economies have found success by focusing on financial inclusion–offering basic services to unbanked and underbanked consumers.
To see all of the slides, you can view the PDF version or download the PowerPoint file, which includes our sources and notes. This is one of an ongoing series of member-exclusive presentations, which you can read, reformat, and use as you wish.
Please share any feedback about what would make these presentations more useful—or topics you'd like to see us cover—by emailing us at members@qz.com. These presentations are an exclusive benefit for Quartz members. We'd love it if you'd encourage any friends or colleagues who express interest to become a member so they can access them too.