Violent crimes are plummeting in England and Wales. The number of such offenses has tumbled from over 4 million in 1995 to fewer than 2 million last year, according to the Office for National Statistics. In fact, the UK more broadly has managed to curb just about every crime over the past 30 years, except for a couple petty ones (bicycle thefts and pickpockets, in case you're wondering).
What's interesting, however, is that despite the sustained and successful attack on violence, there appears to be one place where Brits are actually becoming increasingly at risk of getting beat up: the workplace.

Violent crimes at work have jumped by almost 50% in England and Wales over the past five years.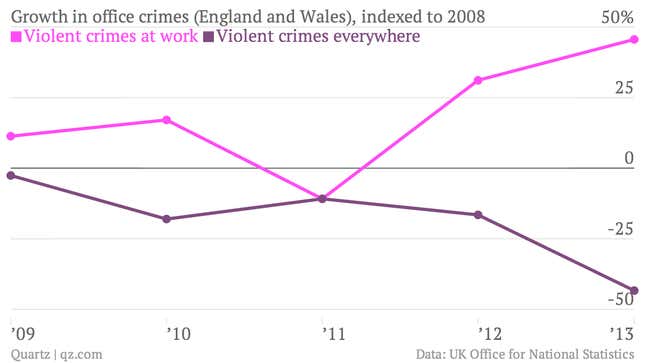 An important caveat is that a lot of the assaults at work have left the victim, thankfully, uninjured. Workplace assaults without injury have jumped by more than 60% since 2008, per the ONS survey. Just a bit of pushing and shoving, then. 
It's difficult to pinpoint exactly what is causing the uptick in violence, but a study by Cardiff and Plymouth universities suggests that it isn't simply managers mistreating their underlings, or mistreatment coming at the hands of customers, but rather both.
"Sadly, our study shows that violence, ill-treatment and unreasonable behavior are all too common in Britain's workplaces," Ralph Fevre, one of the study's authors, told the Guardian at the time.