One worrying nugget in the of Japanese economic data out this week is how little families are spending—a critical problem for prime minister Shinzo Abe's economic reform drive.
Japanese retailers like the grocery chain Maruetsu have been optimistic about domestic spending, pointing to shoppers splurging on jars of sauce for $4 instead of $3, and opting for more expensive cuts of domestic beef. Others point to the fact that in 2013, Japanese stocks had their best year in more than four decades—lifting the value of consumers' pensions.
But neither of those trends is enough. Government data shows that overall household spending grew only 0.5% from the quarter before—well below the 0.7% increase expected by economists. That's the result of rising costs for food and especially fuel, which has to be imported, and weak wages that haven't kept up with the country's still-modest inflation. Japanese consumer confidence in December was 41.3, below the 50 mark that separates consumer pessimism from optimism. Moreover, a lift in stocks has done little to help Japanese families—shares and equities only account for about 8.5% of financial assets (pdf) held by Japanese households, compared to 32.7% in the US.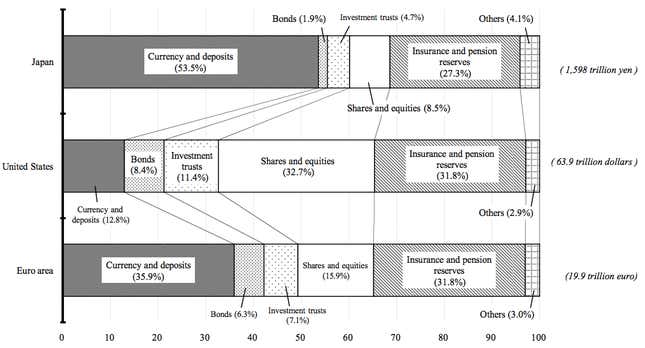 A lack of domestic consumption only exacerbates the economy's over-reliance on government spending, and things may get tougher when the national sales tax rises to 8% from 5% in April.  The Bank of Japan is doubling a program that offers cheap loans to banks—but  it's unclear whether the government will be able to do more to encourage consumers to feel more confident.