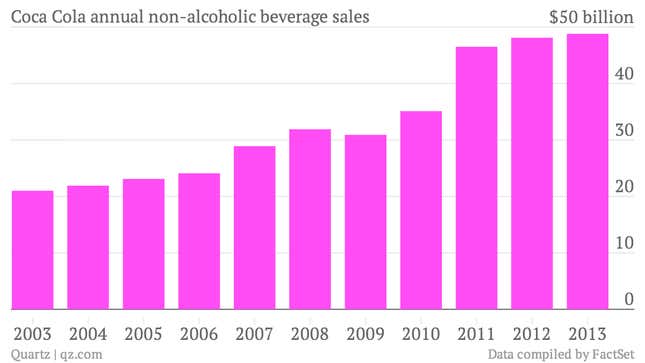 The numbers: Unimpressive. Global beverage giant Coca Cola Co. reported fourth quarter profits of $1.7 billion (pdf), down 8% from the same period last year. Global sales were $11 billion, 4% lower than in the fourth quarter of2012. Shares are up a smidgeon in pre-market trading.
The takeaway: Last year was a tough one for Coca Cola. Both global sales and profits dipped, by 2% and 5%, respectively. "2013 was marked by ongoing global macroeconomic challenges in many markets around the world," CEO Muhtar Kent said in a statement. The company is struggling with slowing demand for its biggest selling brand, Coca Cola, and rising costs, mainly from unfavorable foreign exchange rates. Coca Cola vowed to cut operating expenses by $1 billion by 2016 (paywall) in manufacturing, data-management and marketing. 

What's interesting:  As soda sales dip globally, Coca Cola is turning to water—specifically bottled water, which is poised to become the world's most consumed packaged drink this year, according to Euromonitor. Its low and high-end still water offerings—Dasani and Smartwater—are growing steadily (by double digits in Latin America). And it's delving further into sparkling water; it already controls roughly 5% of the US sparkling water market. The company is "striving for leadership across all geographies" in bottled water, executive vice president Steven Cahillane told investors at a conference last year. One problem: It's hard to make bank on water.