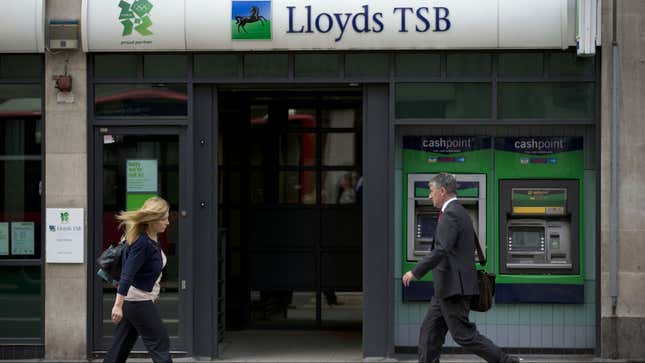 Leaders at Lloyds bank are considering scrapping annual bonuses in favor of longer-term incentives (paywall) for top staff, taking their cue from other large banks that have come under fire from shareholders. The idea being bandied about by Lloyds' executives, is whether to pay out incentives over a ten-year period and link them to share price. Whether or not Lloyds will actually enact the plan is unclear.
While other big banks such as HSBC are trying out longer-term incentive payouts, Lloyds has been under less pressure to change bonuses as it employs fewer investment bankers than rivals. Still, Lloyds is 40% state-owned, and so it's not just shareholders crying foul over fat bonuses that have outpaced payouts in other sectors (even amid the financial crisis), but also politicians, regulators, and British citizens including activist groups.
UK Uncut, a grassroots group against government austerity cuts, has staged protests that temporarily closed banking branches during bonus season last year. They say it's hardly fair that health and education services are being cut, while bankers at big banks—bailed out with their money— still enjoy enormous bonuses.
The pressure seems to be working. Official UK data in 2012, showed that total bonus payouts for employees in the finance and insurance sectors fell 9% from 2011, while bonuses for everyone else rose 12% (paywall).
The question now is whether banks may be taking things too far. Gloom has descended in the City of London with layoffs and cutbacks leading to stress and, now, two apparent suicides by City workers who reportedly leapt to their deaths from a famous roof-top bar.
Last month, Lloyds staff turned on their leaders for demanding unreasonable targets or face getting sacked. The hostility emerged from the lower ranks where some employees say they're the front line in a battle to keep sales high so that their bosses can keep earning huge bonuses. After running the story, the Sun in the UK ran anonymous thank you's from staff, like this one:
BANKING advisers and business managers are often reduced to tears by the demands of people in charge in my area. And staff don't believe HR will help if you contact them.

When the bonus potential is so big in the business for our local directors and above, you can see why they keep on at us about sales. Here's hoping we start putting customers back at the heart of what we do!