Let's step back to 2013.
China is having a Silicon Valley moment, even though its tech firms are largely under the radar of US consumers. The country's red-hot messaging app WeChat has just set up its first US office. Chinese e-commerce giant Alibaba is trying to woo US consumers. And US-listed Chinese cyber security firm Qihoo 360's market value has surpassed $10 billion on the New York Stock Exchange.
To Zhang Yiming, a little-known Chinese tech entrepreneur at the time, Qihoo's success in the US was a sign of change to come. "$1 billion is no longer a benchmark for internet companies. It should be $10 billion," the 30-year-old wrote at the time.
What he may not have known then was the central role he would play in that change.
Zhang's ByteDance, then only a year old, has since grown to be one of the most successful startups in the world, valued by investors at around $78 billion. Its massive "app universe" covers products from news aggregators to selfie tools. It includes the massively popular TikTok, arguably the first Chinese app to become a global phenomenon.
At its peak in the US, Qihoo 360 was described as a "fourth force" of the Chinese tech industry, alongside Baidu, Alibaba, and Tencent. Now, Chinese tech columnists are dubbing ByteDance "the actual fourth force."
The fact that the most highly valued startup today is in China, and not Silicon Valley, reflects China's evolution from the "world's factory" to a cultivator of leading tech companies. It also illustrates how a new generation of tech entrepreneurs, motivated by China's booming economy and a dynamic tech industry, have gone on to conquer it.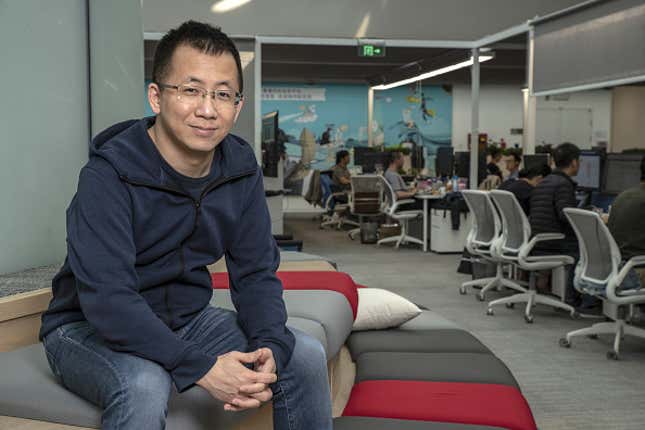 The rational romantic
With an estimated net worth of around $13 billion, 36-year-old Zhang is frequently depicted as the face of this next generation of Chinese tech moguls. He's been described by colleagues and in media reports as geeky, down-to-earth, and an "uncharismatic but open-minded" boss devoted to data and logic. He is extremely private, and rarely does media interviews. ByteDance did not reply to Quartz's multiple requests to interview Zhang for this article.
Zhang's approach has helped him achieve something once deemed impossible in China: building a company that could match the dominance of Alibaba and Tencent, the twin champions of Chinese tech. And he's done so without taking money from either company, something unique among his peers.
"When our company was barely one year old, there were some giants that offered us a very lucrative investment proposal: higher valuation than that given by venture capital firms, massive traffic and installation channels which could help our growth accelerate several times in half a year," Zhang said in a 2015 Weibo post. "I rejected the offer after considering for a week…because the investment from others could force us to choose camps, or mean we could not continue to be as free-spirited as before."
That desire for independence speaks to the entrepreneur's more philosophical side, which also surfaced in a speech (link in Chinese) to his employees in March last year, marking ByteDance's seventh anniversary.
"The outside world has lots of descriptions for us, saying ByteDance and Zhang Yiming are too rational, as well as calling the company an app factory. I strongly disagree with these descriptions," Zhang said. "We are actually a very romantic company…It is only that we have practical romance, which means we turn imaginations into reality, face reality, and change it."
Zhang's early life
Zhang grew up in a relatively affluent family in the city of Longyan, a prefecture-level city in southwestern Fujian province. His curiosity in tech was probably sparked by his parents, who often talked about the new technologies being developed by their friends overseas, according to Chinese media reports. In 2001, Zhang left to study software engineering at Nankai University in Tianjin, a northern city close to Beijing. He chose the city in part to get space from his parents, he jokingly told alumni (link in Chinese) in 2015. His choice of city also needed "to have lots of pretty girls and would snow during winters."
Zhang spent time at university exploring the internet—then still at a nascent stage in China. He began developing code, building websites, and fixing other people's computers—which is how he met his wife.
Following short stints with a travel website and Microsoft in China, Zhang founded his own company, property listing website 99fang, in 2009. The early entrepreneurial years were "pretty lonely," Zhang said in his alumni speech. "We were based in flats, and were checking users' demands all the time. No one knew who you were, and you needed to endure that long period of quietness. Having the patience to wait for results [was] very important."
The emergence of the first iPhone prompted a shift in focus to mobile applications. "I was very shocked by the first iPhone I bought, as the device could carry a website or software on it. It is so hard to imagine a website could be put into one's pocket," he said at a panel in 2018. With the sales of smart phones in China rising, Zhang observed that there were fewer people reading newspapers on subways. "That was when I realized smart phones could replace print publications to become the main medium for information," he said.
In 2012, from a small apartment in Beijing, Zhang founded ByteDance. He explained his vision to Chinese media the Southern People Weekly in 2014: to create products that "let one get the information they need as quickly as possible."
The rise of ByteDance
While Alibaba's Jack Ma discovered the internet at 31 on his first trip to the US in 1995, China's new tech entrepreneurs have flourished in a country more connected to the outside world. Zhang recognized early on how the behavior of users online could be harnessed to benefit the entire ecosystem.
"The spirit of the Internet is a wide range of connections, not only between people, but also between people and institutions, and between people and services, allowing information to be freely and fully exchanged, and removing physical limitations," Zhang said in a 2014 interview. " As long as you have an idea, you can obtain the corresponding technology and corresponding information to create it."
Zhang quickly realized how essential a recommendation algorithm for personalized content could be to the success of ByteDance apps, which included Toutiao, now China's biggest news aggregator. "If we could not customize our content [using the algorithm], the innovations our products can have would only be minor," he told employees last year. "We might be able to get some benefits riding on the wave of the mobile internet age, but we would not be able to have fundamental breakthroughs."
This early grasp of the importance of AI-powered content recommendation algorithms helped him attract users from more established rivals like Tencent and Facebook. "He understood how effective an engineering and AI or data-first approach can be, and how many doors it opens up," says Elliott Zaagman, a co-host of the China Tech-Investor Podcast.
The rapid development of Toutiao, which scrapes content from media platforms, soon landed the app in hot water with several Chinese news outlets, which accused the app of copyright infringements. But as Toutiao's monthly active users count has grown to over 260 million, as of June last year, most outlets have opted to collaborate with the app, and share a slice of the massive user base.
Currently, ByteDance has invested or developed at least 16 products, including Douyin, the Chinese version of TikTok. A major traffic generator for the company, Douyin has over 400 million daily active users. The company reportedly turned a profit last June, with most of its revenue coming from advertising in China, according to Reuters.
Challenges and opportunities
Now, ByteDance is turning its focus outside of China, just as the tech giants admired by Zhang attempted to do almost a decade ago. The company has started exploring potential monetization opportunities with TikTok, which has exploded overseas, and counts 717 million monthly active users globally according to a recent report by App Annie, a mobile app analytics firm. The app has exploded in India, attracting almost the same number of users in one year that other social media platforms have taken a decade to cultivate.  It's also doubled down on gaming and smart phone production.
ByteDance's rapid growth means it's had to come to grips with overseas and domestic regulation much earlier than its older peers, fielding data safety and content supervision concerns from US, China, and Indian lawmakers. The company's ability to tread the line between China and the US, which are engaged in an ongoing trade fight, could determine whether Zhang's expanding app empire will continue to flourish overseas.
Zhang's response to these challenges, as with building the company, has been both pragmatic and idealistic.
"Lots of things would be extremely difficult to do in the beginning. You have to make use of every available resource and try your best for many times to get progress," he said in last year's speech to employees. "We welcome suggestions and criticism for our products, but don't give up hope that easily. We need to have huge passion, bold imagination, and a tenacious mindset."